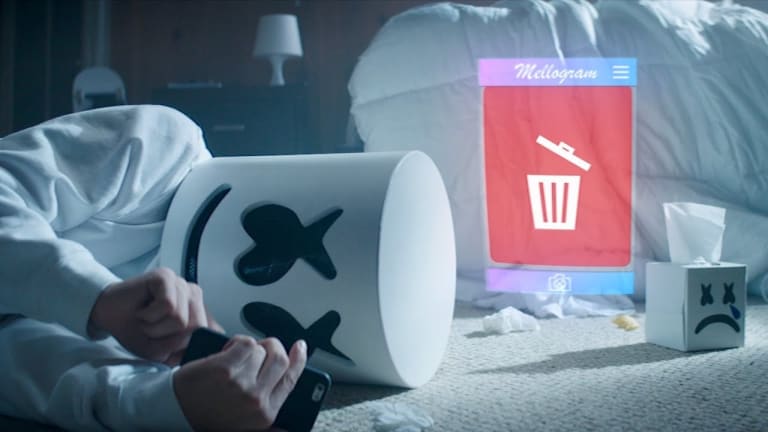 Marshmello Releases Music Video for "Paralyzed"
Guest starring Mello's mustachioed father.
Last year, "Paralyzed" was released as a part of Marshmello's Joytime II album. Today, Mello has finally released the music video for the track. The video is already nearing one million views only hours after its release. 
Reflecting the emotional lyrics, we see a broken Mello laying on the ground, "paralyzed," looking at old photos and reminiscing over memories of the person with whom he just split up. Uninspired and unable to focus, he rolls around in bed and attempts to work on music, to no avail. But, Marshmello's mustachioed father comes into his room to offer some guidance.
We then flash back thirty years into the past, when Poppa Mello was in high school and underwent the same experience. The break up hits him hard, and he is just as broken and depressed as we see Mello Jr. in the beginning of the video. But, time heals him and eventually he (literally) runs into a punk rock Mello-ette, and the rest is history.
Mello comes out of his funk after reading a note from his father, which we see in the final frames of the video. It reads, "Before you can put time into others, you must first put time and value into yourself." 
The inspiring message behind Marshmello's "Paralyzed" music video offers hope to all who may feel lost without a partner, or in general. 
Follow Marshmello:
Facebook: facebook.com/marshmellomusic
Twitter: twitter.com/marshmellomusic
Instagram: instagram.com/marshmellomusic
SoundCloud: soundcloud.com/marshmellomusic