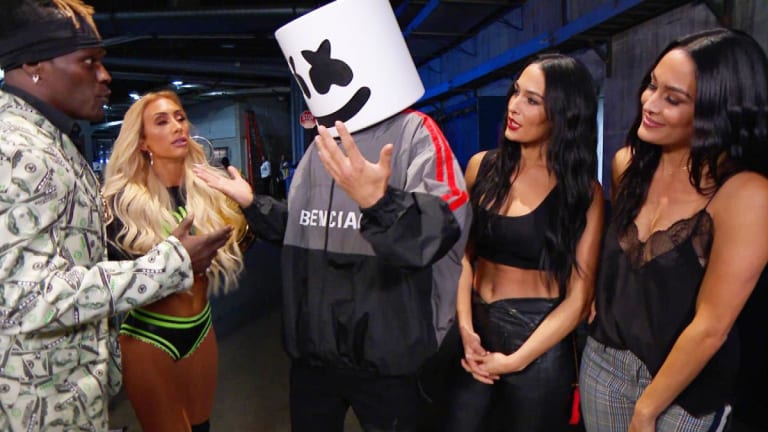 WWE SmackDown's Latest Champion? Marshmello
In a shocking turn of events, Marshmello briefly held the WWE SmackDown 24/7 title.
In a shocking turn of events, the WWE SmackDown 24/7 belt was won by - no joke - Marshmello. Yes, you read that correctly. On October 4th, the EDM heavyweight was featured on SmackDown and pinned the WWE superstar, Carmella, earning himself the 24/7 Championship Belt.
The video of the entire encounter including his belt-winning pin has been uploaded to YouTube by the wrestling organization.
The masked producer's championship reign did not last long, however, as fighter R-Truth put on a Marshmello disguise with Carmella as they sneak-attacked and pinned the DJ, winning back her title belt. This encounter was also uploaded to their YouTube channel for all to enjoy.
Marshmello has been celebrating the success of his track "Happier" featuring Bastille, as it recently broke 50 straight weeks on the top of the Billboard Hot Dance/Electronic Songs chart. In addition to the chart success, one of his other collaborations, "One Thing Right" featuring Kane Brown was featured in a virtual reality Good Morning America performance from the duo.
H/T: Your EDM
FOLLOW MARSHMELLO:
Facebook: facebook.com/marshmellomusic
Twitter: twitter.com/marshmellomusic
Instagram: instagram.com/marshmellomusic
SoundCloud: soundcloud.com/marshmellomusic