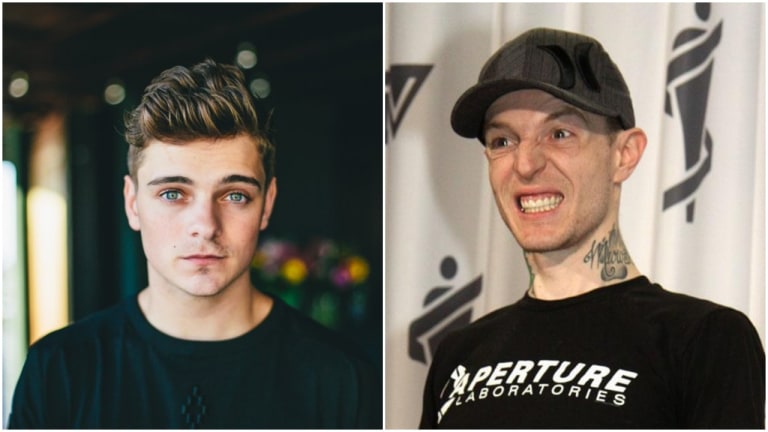 Martin Garrix and deadmau5' Vegas Top Golf Hangout Chronicled in Tongue-in-Cheek Video
Who knew deadmau5 and Martin Garrix were so friendly?
When you think of which DJ/producers might hang out together on their free time, deadmau5 and Martin Garrix may not be a pairing that comes to mind. A video shared by the former artist proves otherwise. It shows the two EDM mainstays during their down time at entertainment venue Vegas Top Golf.
Synced to the "Wii Sports Theme," the nearly one-minute video dubbed "mcfly vs sucklord" intersperses footage of the two superstars taking swings at a driving range with bloopers from televised golf events. Being that both artists performed at the 2019 edition of EDC Las Vegas as well as nearby nightclubs the following weekend, there have been ample opportunities for their paths to cross in Sin City.
Martin Garrix may be in need of cheering up after this past weekend. During his DJ set at OMNIA Nightclub in Las Vegas, he injured his ankle and had to be taken to the hospital.
deadmau5 resumes his KAOS residency in Las Vegas with a performance on June 2nd, and Martin Garrix will continue his own tour with a set at AMG Everland Speedway in Yongin-Si, South Korea on June 7th.
H/T: EDMTunes
FOLLOW MARTIN GARRIX:
Facebook: facebook.com/martin.garrix
Twitter: twitter.com/martingarrix
Instagram: instagram.com/martingarrix
SoundCloud: soundcloud.com/martingarrix
FOLLOW DEADMAU5:
Facebook: facebook.com/deadmau5
Twitter: twitter.com/deadmau5
Instagram: instagram.com/deadmau5
SoundCloud: soundcloud.com/deadmau5