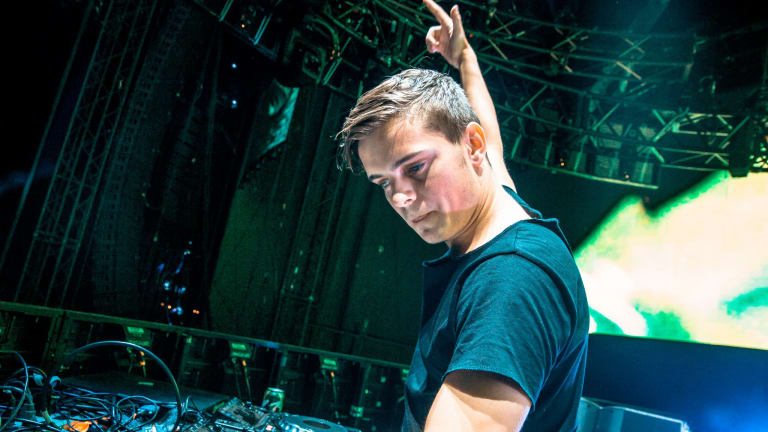 Martin Garrix Sparks Fan Speculation with Mysterious Website Update
The Martin Garrix website has been given an interesting makeover.
Martin Garrix has something in the works, and he wants you to wonder what it is. The Dutch DJ, producer and STMPD RCRDS founder has uploaded a cryptic animation to the landing page of his website.
A visit to MartinGarrix.com reveals that links to his recent releases and upcoming photo biography have been replaced by a wall of static in the shape of a plus sign. If for some reason you would prefer a version with white noise in the background, a similar clip has been shared by the Twitter account @MartinGarrixHub.
In the resulting thread, fans have speculated that Garrix is gearing up to release a five-song EP on account that he posted an image of five fingers on other social media accounts. Others surmise that the update may have something to do with Amsterdam Dance Event, which is slated to begin in less than a week.
As far as the former theory is concerned, some have gone as far as to predict a rough tracklist of the theoretical Martin Garrix EP (perhaps owing to insider knowledge). According to them, its entries might be as follows:
Martin Garrix – Access
Martin Garrix & Blinders – ID
Martin Garrix & Ryan Tedder – Wanna Live Tonight
Martin Garrix & Dyro – Surge
Martin Garrix & Julian Jordan – ID
The only rumor flat-out denied by Martin Garrix at the time of writing is that the release will arrive in the form of a studio-length album. Until he makes more information available, let us know what you think of his website update on social media.
Follow Martin Garrix:
Facebook: https://www.facebook.com/martin.garrix
Twitter: https://twitter.com/MartinGarrix
Instagram: https://www.instagram.com/martingarrix
SoundCloud: https://soundcloud.com/martingarrix