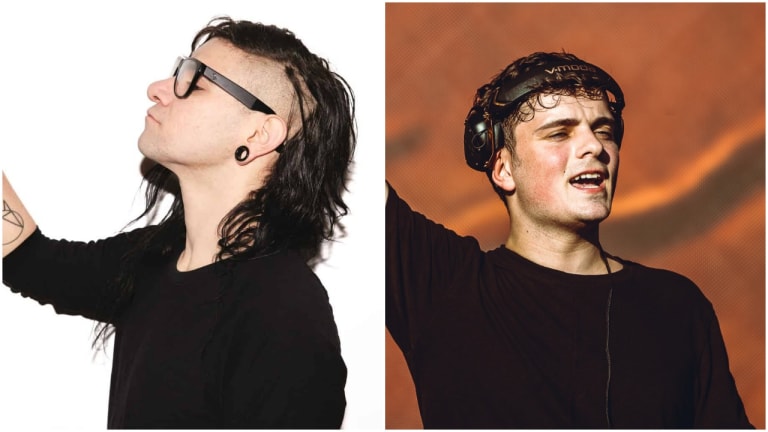 Martin Garrix Names Skrillex as a Dream Collaborator
"I have no idea what we [would] make and that excites me."
Save for festival lineup announcements, it's not all that often that you hear the names Martin Garrix and Skrillex in the same sentence. If the former had his way, however, the two would team up on a track - as difficult as it might be to imagine what that would sound like.
"I'd love to collaborate with Skrillex," said Martin Garrix (real name Martijn Gerard Garritsen) during an interactive session in Japan to resounding approval from his audience. "I've known him for many, many years and because we have so many different styles we're doing, I think it would be really, really interesting if we were in the studio bouncing ideas back and forth. I have no idea what we [would] make and that excites me."
Skrillex (real name Sonny Moore) rode the wave of the EDM boom closer to its epicenter, but Garritsen hit his stride a few years later. That's not to say he was a late bloomer by any means, though. Whereas Moore's career in music extends back to his time as frontman for post-hardcore band From First To Last beginning in 2004, Garritsen's 2013 breakout hit "Animals" made him the youngest artist to ever reach #1 on Beatport's Top 100 Tracks chart at only 16 years of age.
Neither Garritsen nor Moore have made any comments suggesting that a collaboration between them is in the works as of this writing.
FOLLOW MARTIN GARRIX:
Facebook: facebook.com/martin.garrix
Twitter: twitter.com/martingarrix
Instagram: instagram.com/martingarrix
SoundCloud: soundcloud.com/martingarrix
FOLLOW SKRILLEX:
Facebook: facebook.com/skrillex
Instagram: instagram.com/skrillex
Twitter: twitter.com/Skrillex
Soundcloud: soundcloud.com/skrillex