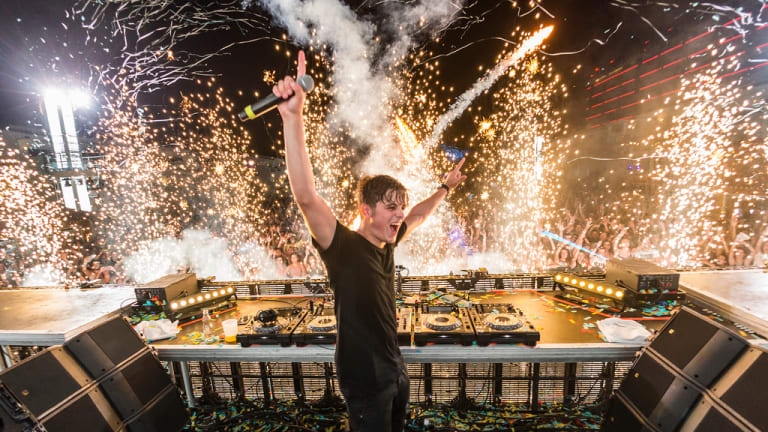 Martin Garrix Gets Stung In The Mouth On Stage, Finishes Performance Anyway
Martin Garrix fights the pain of a bee sting in order to bring his fans the full experience.
Martin Garrix continues to battle through injuries in order to give his fans the best experience possible. Over the weekend, the 23-year-old producer (real name Martijn Gerard Garritsen) performed at Beachclub in Montreal, Canada where he was reportedly stung by a bee in the mouth mid-set.
This story broke when the venue's owner, Olivier Primeau, witnessed the incident and commented on Garritsen's resilience. Primeau took to social media to issue his comments which translate to "The story is just incredible…this is Martin Garrix back on stage after he got stung directly in the mouth by a bee". He said to me, "Fuck bro – I'm going back; it's too extraordinary here not to." 
In late May, during a performance at Omnia Nightclub, Garritsen was hospitalized after sustaining an ankle injury onstage. Garritsen has spent the majority of the summer performing with a boot on his ankle since the incident.
After suffering the bee sting, Garritsen performed to the best of his ability and eventually stepped off stage briefly to seek medical assistance. Following that interruption, he went back on to finish the show. His performance was a part of the seasonal closing ceremonies for Beachclub, and with all that at stake, Garritsen found the strength to deliver a set his fans won't forget.
H/T: Cultr
FOLLOW MARTIN GARRIX:
Facebook: facebook.com/martin.garrix
Twitter: twitter.com/martingarrix
Instagram: instagram.com/martingarrix
SoundCloud: soundcloud.com/martingarrix