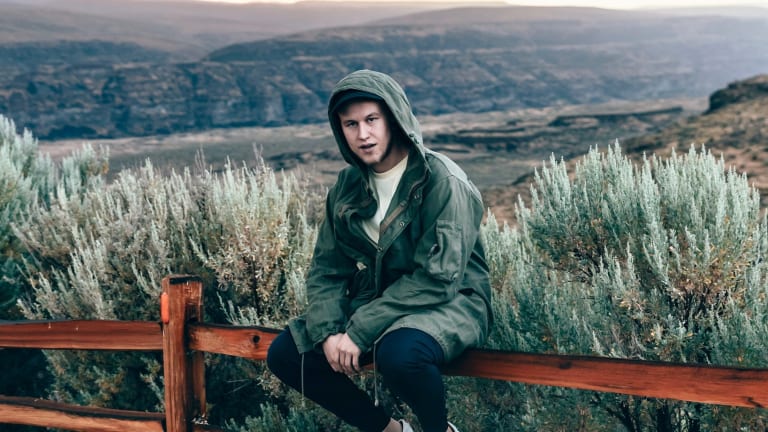 Medasin Reveals The Story Behind Irene And Breaks Down His Debut Album
There's a lot more than you think behind this masterpiece.
Original story on billboard.com. 
Medasin has been teasing his debut album Irene for quite some time now, having fans craving to find out what it will sound like, as the producer's viral remixes and breathtaking originals have showcased unmatched originality and talent. Now, with the highly acclaimed project - his first original music in a long time - out for a week, the question everyone has been wondering about still remains: who is Irene, and why was her impact on Grant so massive that he decided to dedicate his first complete body of work to her?
Medasin recently revealed to Billboard that Irene was his outpatient program counselor at Access Counseling Group, her rehab facility in Plano, Texas, where he would seek help as he was struggling with mental health and drug issues in his mid-teens. As he told: 
"The idea of Irene is essentially me elusively telling the story of where Medasin came from. Also, to convey the idea that simply sharing positivity and encouragement can actually set a huge thing into motion. Living in this way of sharing, healing and love can give birth to all kinds of shit, in my case, a music project. Irene might as well be considered a collaborator on this, because if I had not simply crossed paths with her, my progress wouldn't have been set into motion."
Ever since Irene was taking care of young Medasin, she talked about wanting to a coffee shop near the facility, that will act as a safe place for people in recovery to get together and support each other in constructive ways. The now-successful producer never forgot her wish, and now hopes his reach can help her make her dream a reality. As Irene doesn't have the financial ability to make the coffee shop happen, Medasin created a GoFundMe just for that. 
Support Irene's vision here, and check out Medasin's track by track breakdown on his first album. 
"Weird Summer"
I never intended to make this an intro track. I just made it, and it worked out that way. This was kind of an experiment of randomizing a ton of parameters while having it still sound like cohesive music. It's entirely nonsensical, yet feels like it makes perfect sense at the same time. That made for a perfect intro to lay out the foundation for the rest of the album. I guess if you make the strangest, weirdest track the very first moment on the album and lay out that foundation, then it would be hard for any of the tracks to be so weird that it feels uncomfortable or strange to listen to, because you have already heard the weirdest shit possible on the very first track.
"Ramen"
This also started off as sort of an experiment of live percussion sounds on this desk of random Foley objects that I have been building. Again, none of the songs on Irene were made in order, they were just made, then, at a way later date, were put in order according to how I liked. This one was no different. It was not intended to be the second track when I made it. i guess, to me, it just sounded extremely animated and cohesive. At least to me, it's hard to listen to "Ramen" without picturing some sort of scenario or place in your head, so it made for a good track to start things off. I named it ramen because I am a big ramen fanatic and try all kinds of ramen everywhere I go. Right before the album came out, I took a trip to Tokyo and had some classic tonkotsu ramen from a place called Ichiran that was the most perfect, amazing ramen I had ever tasted. The track somewhat reminds me of the peace and joy I experience when getting lost in an incredible bowl of ramen. On this track, there are also some quiet, Foley field recordings I took in Tokyo while standing on the street outside of the ramen shop.
"Leaving Earth 2"
This track was some weird, unnecessarily deep idea that I was manically obsessed with while making it. Please don't ask why. I don't know. It's supposed to depict dying from first person, then imagining a heavenly soundscape and song that might play during your transition from life to afterlife.
"Warm Blue"
*Cringe Warning* This song is about a girl I liked. the Foley recording at the beginning was actually one I recorded on the 4th of July at a fair watching fireworks with her. To give some more context, I really liked this girl, but I didn't think she liked me, too, so every time I would hang out with her, it was awesome and fun - blah, blah. she was my best friend - blah, blah - but I found it increasingly hard to ignore the elephant in the room; the elephant being the fact that I painfully, really, really liked her and didn't have the balls to tell her; hence the title "warm blue." 'Warm' 'cause I'm around her, but simultaneously 'blue' because I really want her to know I like her, but can't tell her, and the closer I am to her, the more I want her to know, and the more it's bothering me.
"Slinky Man"
I was actually going back and forth with Galimatias trying to finally finish one of the (works in progress) we have together (we have far, far too many, by the way). We were trying to start something new and were sending crispy samples back and forth. This was one of the samples he sent me, and I ended up taking it in a direction I really liked that he wasn't really sure what to do with. I just ran with it on my own. The thing about me, and especially Gali, is he won't even bother to force himself onto a song just for the sake of "collab bro," unless it feels 1,000,000% right and is something that we both consider completely amazing and expresses both of our styles. I guess this one I really liked and thought totally had a place aesthetically on the album, but was in a creative direction too far away from Gali's taste and style, hence why he didn't force himself to work on it. Perhaps we will finish one of the other 23,985,734 WIPs we have someday soon. Who knows, but shouts out to Galimatias, one of my favorite producers and friends of all time.
"Work For You" Feat. Kaz Moon
This, to me, was definitely the most "songy" song of the entire album. The way it all came together actually makes for an awesome story. I am very, very picky about vocalists over my music, and I was on a search for new, unique vocalists I liked and wanted to work with on the album. St this time, I was living in Carrollton, Texas, and there was a badass Korean BBQ joint down the street that I would always go to. The manager, JP, and a lot of the staff were fans and played my music there, so it was always just a fun and happy place to go eat. Anyway, one day JP (the manager of Gen Korean BBQ House) tweeted some song that I really, really enjoyed. The song was by Kaz Moon, so I texted JP and asked him who that was and how I can get a hold of him. Turns out the dude works at the Korean BBQ place and is good friends with JP. Kaz Moon also just happened to live in Carrollton at this time, too. The stars kind of just aligned, and I started some back and forth with Kaz, just getting to know him and sending him beats. This song came about, so that's that. Kaz is super, super unique man. I looooove his style, and it was an honor to be able to have him on the album. Please, go check out Kaz Moon and follow him everywhere.
"Home"
This is one of the wisest tracks on the album, in that I made it longer ago than any of the other songs, and it stuck through the constant trialing and filtering out (of) songs off and on the album. I really don't have much conceptually to say about this one other than I remember just really, really enjoying this melody while I was working on it, so much to the point of it bringing me to tears like a little bitch several times while working on it. Whenever I tear up to my music, I know I am connecting with myself very deeply. I sort of trusted that this was a good pick for the album because of how powerful it was to me at one point.
"Tired" Feat. Sophie Meiers
This one is really weird, actually. Again, I was looking for vocalists I enjoyed to reach out to, Sophie being one of them. She was already a fan of my music, and I was a fan of hers, so there was just no resistance to creating together. After sending her the album to listen to and see if she was inspired to write to any of it, she wrote to this beat and sent me back a rough draft. Everything she was writing and singing about was very, very weirdly relevant to my current love life situation that I sort of touched on earlier while breaking down "Warm Blue." I hadn't told Sophie anything about the situation. She had no idea. She was just doing her thing and it just so happened that the stars aligned. She ended up accidentally writing about something that I really, really super connected with at that point in my life. Again, under those extremely rare, extremely low-odds circumstances of how this song came about, I knew it was perfect for the album. I live for musical moments like these.
"Fin"
Again, I didn't intend for this to be the outro or (for it) to even be on the album at all until way later when I was piecing the album together and giving the tracks order. I just made this purely 'cause I felt it and had fun making it. I just liked the big organ chord resolve at the end. To me, the resolve sounded very conclusive and like a perfect thing to have be the very last moment on the album. When the chord resolve hits, you can almost hear it communicating "the end" or giving the feel that something has just concluded.
Get tickets for the Phase 2 of Medasin's Irene Tour here. 
Follow Medasin:
Facebook: facebook.com/Medasinmusic
Instagram: instagram.com/medasin.music
Twitter: twitter.com/MedasinMusic
Soundcloud: soundcloud.com/officialmedasin