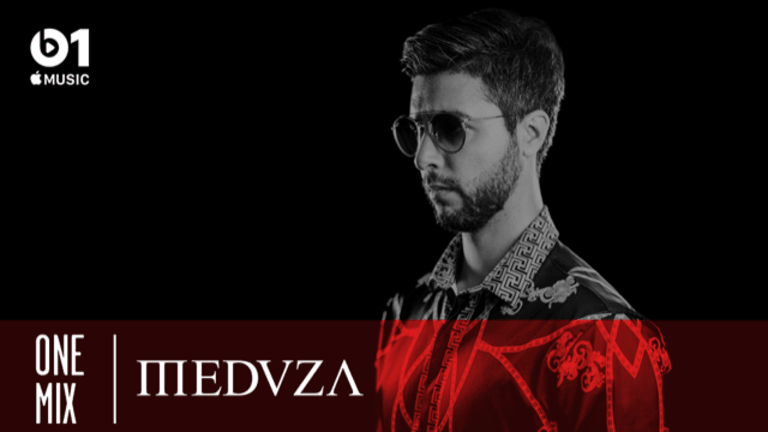 Italian Melodic House Trio Meduza On Beats 1 One Mix [INTERVIEW]
Riding high on the success of their debut original "Piece Of Your Heart," Meduza take to Beats 1 One Mix.
With under 2,000 SoundCloud followers, Italian trio Meduza are aspiring to be the next big thing in Ibiza. Released early this year, their debut original "Piece Of Your Heart," garnered over seven million Spotify streams, six million YouTube streams, and a spot on BBC Radio 1's Dance Anthems.
Smooth vocals, catchy melodies and deep, rolling bass lines mark the Meduza sound. Get a taste as they star on Beats 1's weekly radio show One Mix this weekend. Expect tunes from Chris Lake, Noizu, ZDS, Prok & Fitch, and more.
Tune in here, exclusively on Apple Music.
Air Date: Friday 31st May, 2019 - 21:00 LA / 00:00 NY / 05:00 UK
Matt, Luke and Simon, the men from Milan behind Meduza, grew up surrounded by music. Matt's father was a DJ in the '70s, while Luke and Simon trained as pianists. They all produced music and performed as DJs around Italy for a few years before linking up in 2014.
The trio then took on different projects, including making music for rap artists, until they recently settled on their melodic house sound. With one remix and one original under their belt, Meduza has a long way to go before making their Ibiza stardom dream a reality, but if their future releases are as well received as current ones, it's certainly possible.
Learn more about Meduza as a member of the trio shared all sorts of dance music insights with us.
EDM.com: First show experience?
Meduza: Sligo, Ireland. The vibe was really great – there was such a good blend of people, old and young. It was nice to see that. The room became electric when I played "Piece of Your Heart."
First time you brought your mom to a show?
Hasn't happened yet – maybe when we go to Ibiza.
The artist who inspired you to become a musician?
Roger Sanchez, Eric Prydz, Daft Punk.
Go-to places for music?
When I travel, I listen to so much music via streaming services – I tend to dig quite deep and find lots of things that resonate with me for my sets.
Guilty pleasure record?
"The Only Thing We Know" by Bob Moses.
Desert-island record?
"Benediction" by Hot Natured.
Dream B2B partner?
Eric Prydz.
Favorite BPM?
124.
Piece of gear you always need on the road?
My watch, which has Milan time on it. I never change the time on it while I'm traveling, so I always know when to contact my loved ones.
All-time favorite fest?
Coachella.
Biggest misconception about music?
Everyone thinks it's solely about the music – nothing else. This isn't true. It's also about the team you have behind you and their commitment to staying true to the music, too.
How often do you get out and have fun?
On my down time, I care the most about being able to spend time with my dog! It's really fun and relaxing for me to walk the dog whenever I can.
City with the most underrated dance scene?
I think the dance scene in Sardinia is really good. Not many people would know that unless you're from Italy or have been to Sardinia on a night out. It's come a long way.
Industry prediction for the next year?
House music back on the radio!
Best piece of advice for new producers?
Be patient. Head down – be ready to make sacrifices. Follow your passion. Nothing happens immediately.
Dead or alive, who would be your dream collaborator?
The Weeknd.
Unique experience you've had backstage?
Two years ago, I was behind the backstage, getting ready to play in 10 minutes. I was preparing to go into the booth and the security guard stopped me and wouldn't let me in the booth. Time was running out and I had to run around to get help from the promoter and the management! I've never had that happen to me before. We made it with two minutes to spare.
Unique experience you've had traveling?
When I traveled to Qatar, there was an F1 Ferrari in my hotel lobby on a glass floor with a pool below. I couldn't believe my eyes, it was the coolest thing.
Favorite throwback track?
"Another Chance" by Roger Sanchez.
What's the one track that fans always lose their mind to?
My track "Piece Of Your Heart." However, I have been testing new, unreleased songs and the reaction is the same level of energy. It's so nice.
What was the first album you ever bought?
Discovery by Daft Punk.
Name one remix that you think is better than the original?
David Morales' remix of "Space Cowboy" by Jamiroquai.
What song would you want (God forbid) played out at your funeral?
"This Is It" by Michael Jackson.
What's the perfect sunset track?
"7 Mile" by Grooveyard.
Follow Meduza:
Facebook: www.facebook.com/MeduzaMusic/
Instagram: @meduzamusic
Twitter: @meduzamusic
SoundCloud: soundcloud.com/meduzamusic