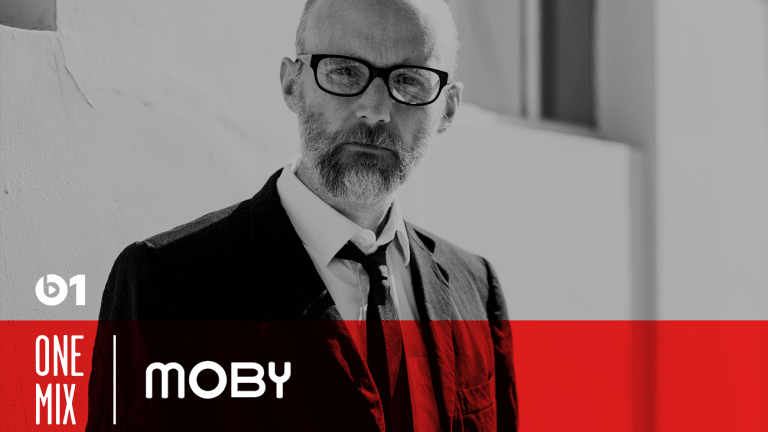 Beats 1 One Mix Hosts Dance Music Pioneer Moby For A Brand New Mix
We aren't ready. Are you?
Electronic music DJ and producers weren't always in the spotlight, center stage, revered by thousands of impassioned fans.
Moby knows that.
In fact, Moby was one of the first electronic music artists to catch mainstream attention.
Diving into the world of electronic music in New York, back in the '80s, Moby has seen dance music grow out of dirty basements and abandoned warehouses to flooded stadiums and packed out clubs. When he first started dabbling in electronic music, it was far from mainstream appeal. Not much music was even made electronically, a far cry from today, where electronic music synthesis has become the bedrock of pop music.
Revered by many as a pioneer of techno, and a forefather of the modern dance music movement, oddly enough, Moby's sound is influenced by everything from disco to punk-rock.
"Go," his second single, garnered mainstream attention, but it was Play, an album he released in 1999, that sent him spiraling into pop stardom. Not to mention, Play introduced a horde of unbeknowst  listeners to the beauty and versatility electronic music had to offer. Every single one of the album's tracks was licensed for advertising or films, an astounding feat at the time.
It's been over 18 years since Play, but Moby has been consistently releasing music, riding the EDM boom of the 2010's with calm, collected success and an unrelenting commitment to artistry. At 52 years of age, there's really no slowing the dance music veteran, as he still feels the passion of music driving his life.
This weekend, Moby has a special mix for Beats 1's weekly radio show, One Mix. If you aren't familiar with Moby, here's your chance to get acquainted. And for longtime fans, a brand new mix to welcome the weekend.
Air Dates:
Friday 6th April 2018 - 23:00 LA / 02:00 NY / 07:00 UK
Sunday 8th April 2018 - 05:00 LA / 08:00 NY / 13:00 UK
His persona, a former alcoholic, drug-fuelled "rock star" of sorts turned devout Christian, vegan and teetotaler, goes beyond music to intrigue the public eye. Far from self-absorbed though, as some celebrities can tend to be, the time-tested artist is known for his grounded, nuanced demeanor.
Between his early rave days in New York's underground and stardom as a global musical sensation, Moby's seen a lot. We were lucky enough to ask him a few  rapid-fire questions, and he had some refreshing responses.
Read on for interesting insights like his guilty pleasure record, the biggest misconception about dance music, as well as outrageous experiences, like one time where he was backstage at a sex club having a drug-fueled conversation with a naked sex worker about The Simpsons.
EDM.com: What was your first show experience?
Moby: The first show I ever bought tickets for was Yes at Madison Square Garden in 1979.
The first time you brought your mom to one of your shows?
I was playing in a punk rock band called 'Vatican Commandos', and in 1982 we had a tiny show at a tiny punk rock club in Bridgeport, Ct, and my mom and my grandmother came.
Later, they both asked why it needed to be so loud.
The artist who inspired you to become a musician?
I think I was more inspired by music as a whole than any one specific musician.
Go-to places for new music?
One of my favorite ways to hear new music is to spin the dial on my car radio and see what new, strange things pop up.
Your guilty pleasure record?
'My Heart Will Go On' - Celine Dion.
Desert-island dance record?
'I Feel Love' - Donna Summer.
Favorite BPM?
Still a sucker for a good 122 bpm old house record.
A piece of gear you always need on the road?
A taxi to take me to the airport, so I can go home and not be on the road.
All-time favorite festival?
Mt. Wilson festival of space and science. No music, just telescopes and astrophysicists.
Biggest misconception about dance music?
That it was started by straight white guys. Dance music's genesis is almost exclusively the provenance of gay, black, and latino club scenes.
How often do you get out and have fun, and where do you go?
Almost every day I go hiking in Griffith Park.
City with the most underrated dance scene?
McMurdo Station, Antarctica.
Industry prediction for the next year?
The consequences of climate change will become increasingly dire and devastating.
Best piece of advice for new producers?
Have fun, but not too much fun.
Dead or alive, who would be your dream collaborator?
Donna Summer.
One of the most unique experiences you'd had backstage? 
Hm, one time in Barcelona I was backstage at a sex club having a drug-fueled conversation with a naked sex worker about The Simpsons.
A unique travel experience you'd had? 
Early on in the rave days, in 1992, I played a rave in Northern Ireland and had to evacuate the building due to a bomb threat.
Bomb threats, sex clubs, space & science festivals, Moby's lived through it all. 
While we hope the effects of climate change don't completely devastate humanity next year, we reiterate the importance of electronic music's roots in the LGBTQ community, a fact often overlooked yet crucial to the birth of the modern dance music movement. 
Nothing like a history lesson from someone who actually lived through the birth of EDM.