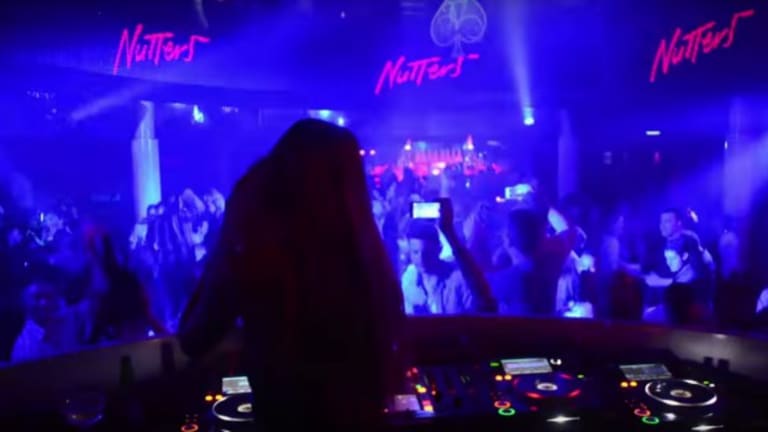 An EDM Experiment: How a 'DJ' Fooled the World & Got Away With It
One woman went deep undercover to see if she could fool the world into thinking she was a DJ.
After hitting a point of cynical critical mass over DJ culture and EDM nightlife, Nadja Brenneisen set up an experiment that would test, once and for all, whether anyone can really be a DJ. The experiment was unveiled and documented in a lengthy feature published on THUMP.
Read a response to the experiment here
She teamed up with her friend and talent buyer Tobias, and they decided to find a second female to create a fake DJ duo, thinking two women would give them a marketing edge, and went on to set themselves up with a name, logo, Facebook page, etc.

"After a friend gave me a crash course, it took just a few weeks before I could neatly mix one track into the next and manage transitions that didn't jar."
For their first gig, they played a contrived set of the most successful hits from Tomorrowland. While this angered some, any publicity was good publicity and before they knew it... they had a buzz and were playing festivals. The bookings started to roll in and Nadja's DJ partner, who was in law school, couldn't keep up with the ever-increasing time commitment, so Nadja continued the experiment as a solo DJ.
With some slick marketing and Tobias' insight and connections, she was soon opening for acts like Ummet Ozcan and Sidney Samson and was even headlining her own gigs.
"I could barely believe I was seeing myself on flyers less than six months after I first stood at a DJ deck."
Tobias was booking Nadja, aka Nutters, for nearly $1200 a set, which was anywhere from one to two hours. In less than a year, she had a touring schedule playing eight to ten shows a week. And as her fame grew, she watched the dichotomy of hate and envy develop among her DJ "peers".
Nadja saw something develop in herself, as well. She began to feel an affinity for the decks, stopped playing pre-recorded sets and started digging for music in her free time. She started playing techno and unknown gems in some of her sets, but only for the small, private gigs because she had to maintain "a consistent performance which was clichéed and tacky, but believable" during her mainstage performances.
She was appearing in newspapers and blogs, but in order to take her DJ name to the next level, she needed original material. So to keep the charade going, they enlisted a ghost producer. Producers Ben Mühlethaler and Avesta were responsible for her first track (listen below).
The next thing she knew, she was receiving show offers overseas complete with fat fees. It seemed like the sky was the limit, and if she wanted to achieve the mega-success of such commercial, champagne-spraying, cake-throwing DJs... it was totally and completely in arm's reach.
"Everything I did was real. I managed every transition without a sync button and I lived each performance. But still I constantly felt I was cheating my audience and the scene by presenting a pure fiction."

She feared her DJ alter ego would take over and decided it was finally time to end her "art project" after she landed a job offer as a full-time journalist."I have enormous respect for DJs who see themselves as musicians, not as entertainers.
 "A DJ like that is a music teacher, one who brings his audience closer to new and perhaps even revolutionary tracks... So I have to do what's only right and offer my DJ career as a sacrifice to electronic music culture and its musicians. I'm clearing the stage for those who deserve a place on the stage and who want to move and change people with their audience."
Read a response to the experiment, "She Fooled Everyone Into Thinking She had a Shocking Story"

H/T: Thump