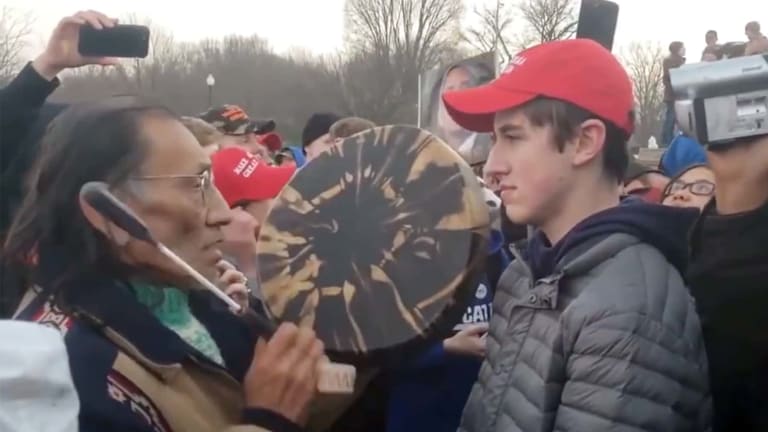 Native American Elder from Viral Protest Clip Already Famous from Skrillex Video
Nathan Phillips was cast for Skrillex and Damian Marley's 2012 video.
As it turns out, a video clip making its rounds from an encounter that took place between Nathan Phillips and Covington Catholic High School students was not the first time his face was seen by millions. The Native American protestor also starred in the official music video for Skrillex's 2012 single "Make It Bun Dem" featuring Damian Marley.
Phillips' character faced a much different adversary in the "Make It Bun Dem" video. The montage of clips depicts a city developer eyeing the elder's place of residence, only to retreat when a younger character initiates a torrential downpour with what appears to be a rainmaking ritual.
Phillips' run-in with the MAGA hat-wearing youths took place when anti-abortion rally March for Life converged with the Indigenous Peoples March on Friday, January 18th in Washington D.C. The matter of who initiated the confrontation remains a hotly debated subject, as does whether Covington Catholic High School student Nick Sandmann was smiling or sneering at the activist.
Skrillex will resume touring with a performance at EDC Mexico in Mexico City in February 23rd, 2019.
FOLLOW SKRILLEX:
Facebook: www.facebook.com/skrillex
Twitter: twitter.com/Skrillex
Instagram: instagram.com/skrillex
SoundCloud: soundcloud.com/skrillex