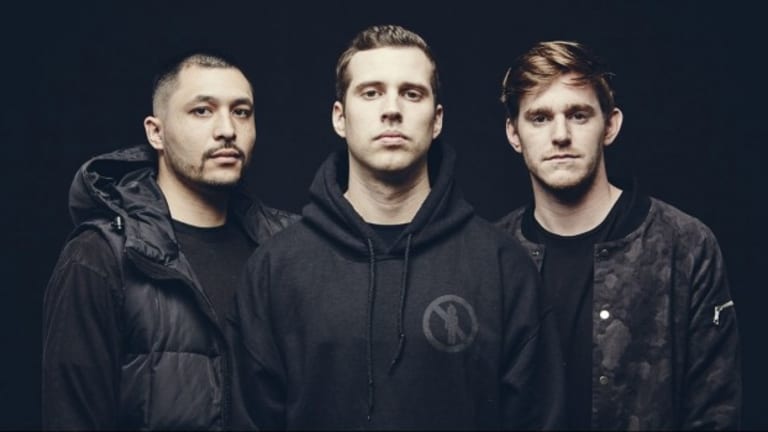 NGHTMRE and SLANDER Join Forces on New Label, Gud Vibrations
NGHTMRE and Slander have launched an imprint of their 2015 single's namesake.
Following their long list of collaborations, NGHTMRE and SLANDER have a more involved project in the works. The two acts have teamed up on a brand new record label called Gud Vibrations.
Originally the title of their 2015 collaboration, Gud Vibrations has also been used as the name of numerous NGHTMRE and SLANDER tours. The record label's inaugural release will arrive in the form of "Deathwish" by WAVEDASH. The soundscape sees the Austin, Texas trio vacillate between serene melodies and hard-hitting bass to captivating effect.
Over the course of his career, NGHTMRE has joined forces with the likes of Wiz Khalifa, Ghastly and Dillon Francis. SLANDER's list of collaborators is diverse enough to include Crankdat, Asking Alexandria and RIOT. The latter group is currently in the midst of headlining a tour called "The Headbangers Ball with a performance at Baja's Beach Club in Tallahassee, Florida on Thursday, October 18th.
"Deathwish" by WAVEDASH arrives by way of NGHTMRE and SLANDER's Gud Vibrations imprint on Friday, October 26th. In the meantime, listen to the three artists' recent Seven Lions collaboration, "First Time," here.
Follow NGHTMRE:
Facebook: https://www.facebook.com/nghtmre/
Twitter: https://twitter.com/NGHTMRE
Instagram: https://www.instagram.com/nghtmre/
SoundCloud: https://soundcloud.com/nghtmre
Follow SLANDER:
Facebook: https://www.facebook.com/slanderofficial
Twitter: https://twitter.com/SlanderOfficial
Instagram: https://www.instagram.com/slanderofficial/
SoundCloud: https://soundcloud.com/slanderofficial
Follow WAVEDASH:
Facebook: https://www.facebook.com/wearewavedash/
Twitter: https://twitter.com/wearewavedash
Instagram: https://www.instagram.com/wearewavedash/
SoundCloud: https://soundcloud.com/wearewavedash