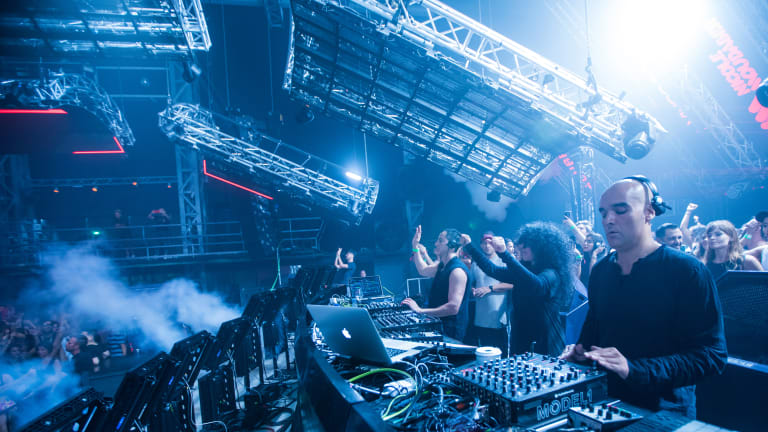 Catch Nicole Moudaber, Dubfire and More in NYC [Contest]
Nicole Moudaber B2B Dubfire B2B Paco Osuna is coming to Brooklyn. Here's how to win a Meet & Greet, tickets and more.
MOOD Records label head Nicole Moudaber is gearing up to bring her acclaimed MoodRAW event brand to Brooklyn next week. We here at EDM.com are giving you a chance to win two tickets to the party and meet the techno legend herself in addition to snagging some MOOD Records merchandise.
The MoodRAW event is set to take place on November 10th at Avant Gardner. The lineup is sure to make this one of the most highly anticipated techno events for New Yorkers to attend this year.
In addition to Moudaber's famed B2B2B with Dubfire and Paco Osuna, the event will also feature Japanese techno talent Hito and a special solo opening set from the label boss herself.
To be eligible, follow the instructions below:
1. On Facebook, Instagram or Twitter post the event flyer below. The more social media platforms you post on, the better chance you have of winning.
2. If on Facebook, tag the pages for Nicole Moudaber and EDM.com and hyperlink this article.
3. If on Twitter, tag @NicoleMoudaber and @TheEDMNetwork and hyperlink this article.
4. If on Instagram, tag @NicoleMoudaber and @EDM.


The winner for the contest will be announced on our social media channels (Facebook | Instagram | Twitter) 
Moudaber began her career promoting dance parties in Beirut, Lebanon during the 1990s before moving to London where she established herself as a DJ and producer. From then to now, much has changed. An event promoter, record label founder, radio host, and one of the most passionately followed DJ/producers in the world, Moudaber is a one-woman army and a force to be reckoned with. Hot on the heels of her recent Adoption EP which came out in early October, she has gone from strength to strength in 2018.
Known to do her bit for causes which she is passionate about, Moudaber recently launched her ELEVEN campaign. It aims to end the brutal practice of female genital mutilation (FGM) worldwide. In partnership with psychotherapist and human rights activist Leyla Hussein, all the money raised by ELEVEN will go to Magool, a non-profit organization dedicated to supporting survivors of FGM. 
In an effort to raise funds for the cause, Moudaber has set up a GoFundMe to which you can donate here. There are also exclusive leather ELEVEN charity bracelets that can be purchased via her online store here, and tickets to the MoodRAW event in NYC can be found here. 
Follow Nicole Moudaber - 
Facebook: https://www.facebook.com/officialnicolemoudaber
Instagram: https://www.instagram.com/NicoleMoudaber
Twitter: https://twitter.com/nicolemoudaber
Soundcloud: https://soundcloud.com/nicolemoudaber
Follow Mood Records -
Facebook: https://www.facebook.com/MOODRecords
Instagram: https://www.instagram.com/moodrecords
Twitter: https://twitter.com/MoodRec
Soundcloud: https://soundcloud.com/moodrecords