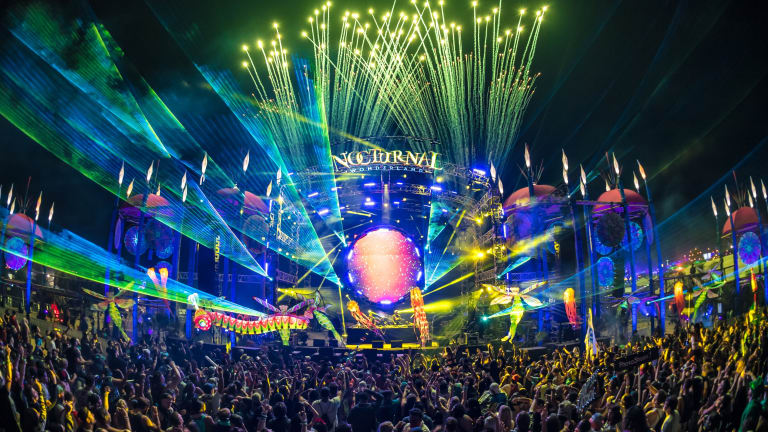 Nocturnal Wonderland 2019 to be Cut Short Each Night by New Sound Laws
Pasquale Rotella announced updates for Nocturnal Wonderland 2019.
Pasquale Rotella, founder and owner of Insomniac, has announced that due to a new sound law affecting the Glen Helen Amphitheater, the music at this year's Nocturnal Wonderland will have to end at midnight.
The event, which will take place in San Bernardino, California, is still scheduled for September 14th and 15th, 2019. Rotella stated he has looked into alternative locations to host this year's festival but feels it needs a "proper send off" one last time at the amphitheater.
"It's America's longest running rave, and a show I have a very special connection with." Rotella wrote in an Instagram post. "I'm bringing the whole fam to camp for the weekend, and I'm excited for us all to say goodbye to a venue that's been so good for us for many years."
This year's Nocturnal Wonderland will begin at 3:00 PM, starting two hours earlier than usual. Rotella also announced that the festival's operations will still run past midnight, as they have added two silent discos to each night of the event. In addition to this, the campgrounds have been expanded and they are bringing three new stages and art installations, plus the Nocturnal Wonderland debut of the beloved Parliament Art Car. 
Tickets for Nocturnal Wonderland will go on sale this Thursday at 9:00 AM PST. The lineup will be announced Wednesday at 12:00 PM PST. Stay up to date with Nocturnal Wonderland here.   
FOLLOW PASQUALE ROTELLA:
Facebook: facebook.com/pasqualerotella
Twitter: twitter.com/pasqualerotella
Instagram: instagram.com/pasqualerotella
FOLLOW NOCTURNAL WONDERLAND:
Facebook: facebook.com/nocturnalwonderland
Twitter: twitter.com/nocturnalwland
Instagram: instagram.com/nocturnalwland