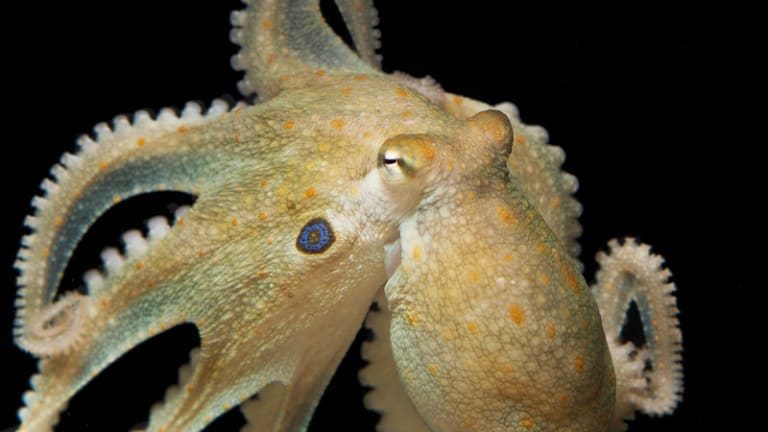 Octopuses Were Given MDMA & They Started Cuddling
Scientists had octopuses try the drug MDMA and it made them start hugging.
Warning: This is cute as hell. Octopuses are one of the unique sea creatures that are known for being antisocial. They prefer to be alone unless they have to mate with others. When it's not mating season, they are pretty unpleasant to be around. If you left two of them together, they would most likely fight. 
On the contrary, if they are given the drug MDMA, they become extremely affectionate with each other. We swear. Scientists tested the mood enhancer on the octopuses and they started to hug... just like humans. 
Gül Dölen, Assistant Professor of Neuroscience at John Hopkins University in Maryland:
"Why on earth would you not be interested in what happens when octopuses take MDMA?"
Seriously though, she's got a point. Dölen and her team were dying to know what would happen and if there was a universality with brain mechanics. If the social drug had a positive effect on antisocial animals, there must similarities with the anatomy of the brain. Scientists chose "octopus bimaculoides' as the guinea pigs because their genome closely matches a humans' by 60-70 percent. 
The octopuses were first placed in a tank with toys. One had to be in a flower pot in the tank to avoid aggression. They migrated to their toys and ignored each other. Then they were placed in a container with liquified MDMA for 10 minutes. 20 minutes later, the MDMA was expected to hit and they were placed back in the tank. To the scientists' prediction, the octopuses ditched the toys and gravitated towards each other. Scientists observed the creatures were uptight before the drug. After the drug, they seemed extremely relaxed and open. 
"Before the MDMA, they were very reserved. They had their arms bunched in. After the MDMA, they were super relaxed, touching and putting their mouths on everything, and hugging the flower pot with the octopus inside. They were in a total cuddle puddle."
There has been a wave of new research studied being done on MDMA and psychedelic drugs to treat PTSD. We hope MDMA will be a legal prescription drug in the near future.