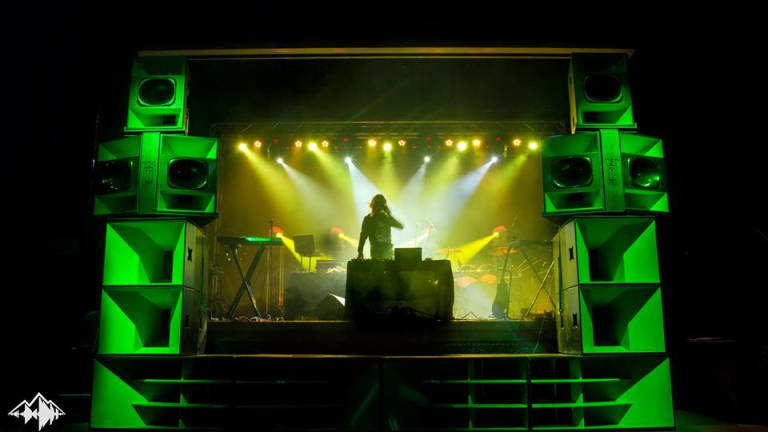 One Vibration Drops 2019 Lineup With Plan to Start an Actual "Church of Bass"
Colorado's premiere sound system culture and audiophile Event puts the Rockies on avalanche alert!
One Vibration Music Festival has announced the 2019 music lineup for the 3rd edition of their event. It will be held May 17th and 18th and nestled in the heart of the Rockies - Durango, Colorado.
This third year festival at the historic Talking Rocks campground is two days and nights of camping, music, performance and art - but above all, this event is a spiritual experience in bass music.
The monster lineup of bass-slaying tastemakers include dynamos like AU5, Axel Thesleff, Buku, Dirtwire, Zeke Beats and a hotly anticipated Slug Wife Takeover - plus about 50 other bass acts.
"We believe these acts to be some of the best of the new era and old skool bass music," said One Vibration Co-Founder Ryan Ehrig. "We believe we can showcase their talent as it was meant to be heard - on some of the most incredible sound systems available today." 
Alongside heavy-hitting local and regional acts hailing from every corner of the bass music genre the event has gone a step further by pairing all of this amazing talent with the most sophisticated sound systems on the market. It will boast connoisseur-quality, high-fidelity sound at each of the three stages featuring the sound of Funktion One, Danely, and Hennessey Sound Design systems. 
In fact, One Vibration will have the largest Hennessy Sound Design system ever assembled. Additionally, the event's organizers teaming up with Mega Vision to provide one-of-a-kind stages and lighting with new applications of LED paneling, lasers, projection-mapping, and hand-built stage designs. With this attention to quality sound and the listening experience, One Vibration sets the stage to become Colorado's premiere audiophile event. 
In other words, if bass is your religion One Vibration is revival.
"You have to understand that we aren't just fans of bass music." said One Vibration Festival Co-Founder Colton Mowrer. "We believe that these frequencies are the highest intelligence. We literally worship bass music. It is our God and we plan on building The Church of Bass right here in Colorado."
Not to be idly dismissed as some hippie-dippie mission statement, they are literally starting The Church of Bass. Opening and closing services will include "test tone communions" featuring a sweep from highs to lows and holding at the max SPL allowed by local ordinance. This, again, will be on the world's large Hennessy Sound Design System. In one unified frequency, the sound, the mountains and attendees will literally be shook on 'One Vibration'.
Collaborators include: Get It Gang Music, Pusha Management, Sub.mission, The Mile High Sound Movement, Angry Neighbor.
One Vibration takes place May 17th & 18th in Durango, Colorado. Tickets are available HERE. General Admission tickets are $250 plus fees with additional options for Early Arrival, those with RVs, and VIP Camping.
RSVP on the One Vibration Facebook Event Page to stay in the loop with upcoming One Vibration news! 
TIP: One super secret headliner will be announced on the 21st with production workshops for the aspiring bass music producer so definitely look for updates. 
See you there!
FOLLOW ONE VIBRATION
Facebook facebook.com/1vibrationfest
Instagram  twitter.com/1VibrationFest
Twitter instagram.com/1vibrationfest