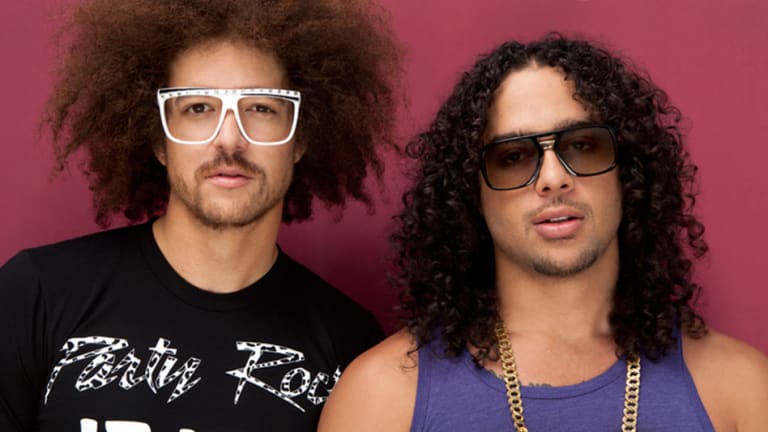 LMFAO Reach Settlement in Lawsuit over "Party Rock Anthem" Lyrics
LMFAO's 2013 dispute with Rick Ross is finally over.
"Everyday I'm Shufflin'" are three words that anyone who was alive in 2011 will surely remember. The words, spoken by LMFAO right before the drop of their hit, "Party Rock Anthem," were memorable and catchy, and undoubtedly stuck in the entire world's head, along with the distinct and very shuffle-able melody of the chart-topping single. 
However, five years prior to the release, a similar phrase was uttered by hip-hop boss Rick Ross. "Everyday I'm Hustlin'" was the repetitive and extremely memorable hook to his 2006 gangsta-rap anthem, simply titled, "Hustlin'." In 2013, Ross filed a lawsuit against LMFAO, claiming that the lyric in "Party Rock Anthem" is derivative of "Hustlin'," and that the song was stolen by LMFAO.
Six years later, the lawsuit has finally been settled. After initially throwing the suit out after ruling that the phrase was not covered by copyright, U.S. District Judge Kathleen M. Williams removed Ross from the suit. Copyright claims could still come from Jermaine Jackson and Andrew Harr, the "Hustlin'" co-writers and producers after that point. Ross opted to have them re-open the suit in 2018, and so they did.
Before the next trial could come to fruition, however, LMFAO and the co-producers of "Hustlin'" finally reached a settlement. Details of the settlement are still unknown. 
Follow LMFAO:
Facebook: facebook.com/lmfao
Twitter: twitter.com/lmfao
Instagram: instagram.com/lmfaoofficial