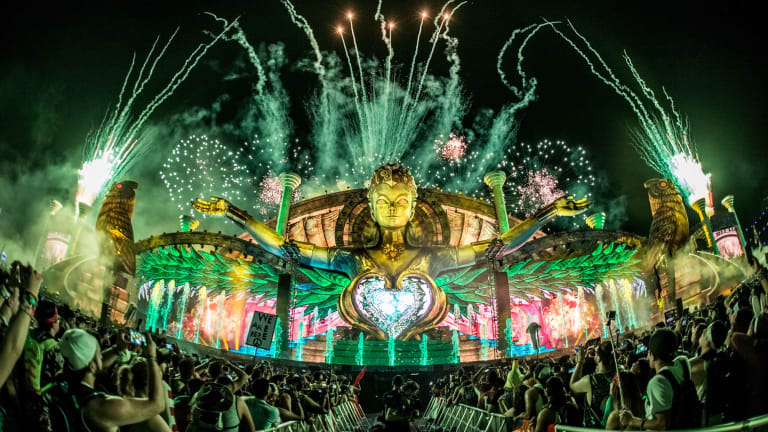 The most important things we learned about EDC 2018 from Pasquale Rotella's Reddit AMA
The founder of Insomniac Events just gave a ton of valuable information!
Not too long ago, founder and CEO of Insomniac Events, Pasquale Rotella, announced some major changes for EDC Las Vegas 2018. As it looks, the man behind festivals such as Electric Forest, Middlelands, and Beyond Wonderland, is looking to make the biggest festival outside of Europe an even smoother experience for its hundreds of thousands of attendees.
Now, Rotella has come to Reddit for an AMA, answering fans' questions about the future of EDC and a plethora of other topics. Here are the most important things we learned from the AMA:
Insomniac is teaming up with a third party company to help with the shuttle transportation, and Rotella is pretty confident about the change:
We have confirmed the third party company we will be using for shuttles and they provide transportation for the largest live events in the world. I am excited about collaborating with them to make it the best it's ever been.

Camping is being added (all tents will have air conditioning and sun protection) and the festival's re-enter policy is changing:
...during festival hours you can come in and out of the show as long as you have a camping wristband. We will have in's and out's at the festival for campers, but non-campers will not be able to enter the campgrounds.
Unfortunately you won't be able to bring your own tent:
In 2018 only turnkey tents will be available. We need to make sure that everyone has darkness and air conditioning and is comfortable. We're open to exploring something different in future years.
Camping packages are going to vary a lot in price:
As far as campers, there will be several different packages available. It depends how many people you're with and what packages you choose, but you'll be able to get something between $450 to $2,500 for 4 days of camping. This will all be laid out clearly before we go on sale with camping options.
Rotella is definitely looking to improve the EDC livestream:
I've gotten mixed opinions from people for what they'd like to see on this. I do appreciate your input. We're capable of doing longer sets. Maybe I should get a vote on this from fans.
Why EDC New York was ended:
The reason we no longer organize EDC New York is because we felt like we needed to find a better venue.
Insomniac haven't found a place for Middlelands yet, but are still on the lookout:
We are still searching for the right venue and the plan is to definitely bring it back but not before finding the right place. Glad we crossed paths!
Camping will be pretty safe, and personal items won't be easily stolen with the right amount of precaution:
If you're in an RV I suggest you lock it. If you're staying in a tent, we ask that you bring your own lock as the zippers will have luggage lock holes. Security will be roaming the grounds as well. You'll be able to access your vehicle if you want to lock items in there too.
Why they moved EDC Las Vegas dates from June to May:
The biggest factor in our move to May was the cooler weather. It allows us to do camping, have extended hours, and the temperatures are way more comfortable for Headliners. It also takes if off of Father's Day, which is great for me and all the other Dads.
About cell service and Wi-Fi at festival grounds:
Cell service at EDC is difficult. We've tried improving it -- and we've made Wi-Fi available for free in Carnival Square -- but it's also nice to turn off for the weekend. Pro-tip: Always set up a meeting spot at the festival prior to entering.
Insomniac are looking to furthermore expand EDC around the world:
...we love spreading EDC around the globe. We feel it's a positive movement we want to share with the world. If we ever go somewhere and then stop, it doesn't mean that we're not coming back. We like to change things up by moving the experience around.
On DJ Khaled's performance at this past EDC:
It's a bummer when an artist's set is disrupted due to technical difficulties. He was not someone you would typically see at our events but it could have been fun had it worked out.
Rotella is a DnB head:
...Drum and bass is in my heart and soul. We've had DnB acts play more and more but the stages tend to empty out a bit, but we're gonna continue to push it because I'm a jungliest till I die!
On the "EDM Bubble" and the electronic music scene hitting a slump:
Dance music isn't going anywhere. It's always had times where it's more popular than other times, and in my eyes, that's not a bad thing. It pushes artists to be even more innovative with their sound. But it doesn't matter how big or small it gets -- we're in this for life!
Rotella treats Techno stages differently, doesn't value glamour and fancy production that much:
It's not about more production. It's about a certain style of production. Sound needs to be amazing. Visuals need to be amazing. There's a certain vibe that techno has and it doesn't always require confetti!
There you have it! You can check out the AMA in its entirety here; be sure to let us know what you think of the new changes. And also, don't hesitate to let Pasquale Rotella know your feedback, he is always open to hearing what the fans have to say.