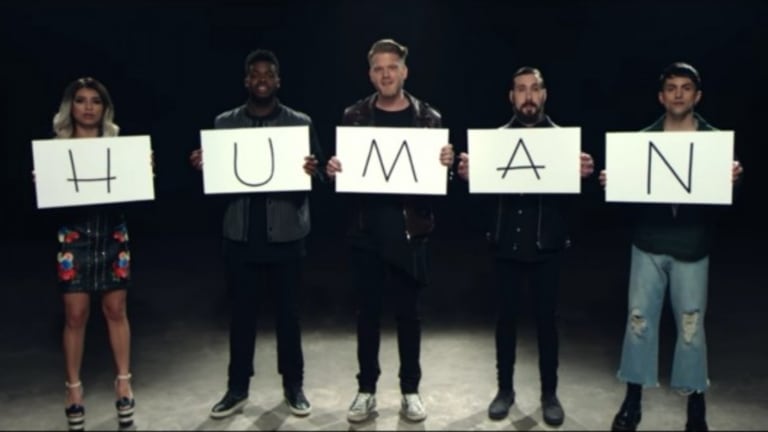 Pentatonix's Cover of 'Imagine' is a Deep Rooted Message of Unity & Love
Are you embodying the spirit of inclusivity off the dance floor?
Few songs can stand the test of time like John Lennon's iconic song "Imagine."
From 1971 to 2017, these lyrics hold true even 40 years later! Imagine a world at peace without the overbearing barriers of borders (Read: Walls!) or wars sparked by differences in religion and nationality that tear us apart. More so consider the possibility of living a life detached from material possessions in the name of unified humanity! THIS was what the musical genius John Lennon had envisioned for us by way of this ethereal ballad over 40 years ago!
Since then, a number of greats have recorded or performed their versions of the song from Stevie Wonder to Elton John, Lady Gaga to Madonna! On March 10th, Pentatonix spun their A Cappella magic resulting in this stunning take on the classic. Keeping the essence of the track in place, along with their flawlessly synchronized voices, they held up signs professing inclusion and oneness regardless of Gender, Religion or Nationality. Beautifully, they each held up a sign with one alphabet each forming the word 'HUMAN' as the most apt ending we could've thought of for this stunning rendition.
This video begs for deeper consideration. A lot of us think of music merely as entertainment, an art form that can inspire the producer and the listener. Others think of music as an anchor: a gift that keeps on giving, the sound which gets us dancing, or the force which can be relied upon to keep us grounded during the stormier chapters of our lives. The Black and LGBTQ community mentioned in this video have often utilized music as a means of self-expression in an unstable world. Techno was introduced to the world from its humble beginnings in 1980s Detroit, pioneered by the Black community as a soundtrack for the city's industrial collapse. A look into EDM's past shows that much of the genre's of history evolved from music made 'by people of colour, for people of color!' Even earlier, in late 1970's Chicago, a disco scene met with racial and homophobic tension was morphing into house—a style named after The Warehouse, the gay nightclub where the genre is said to have originated. For them, music has always been more than JUST music.
There are many that will argue that electronic music shouldn't be political, or that artists "should stick to making music" and leave behind the 'preaching' or attempts at social change! But if you deny the social and political roots of the genre itself then are you really comprehending the music's truest message? Electronic music has alway been about inclusivity, but if we only embody that on the dancefloor are we being true to ourselves? Why do you trade kandi or preach the message of PLUR if you're unwilling to embody those values in your daily life?


The power of music has always been above all and we hope it will continue to be the case.


You may say I'm a dreamer, but I'm not the only one…