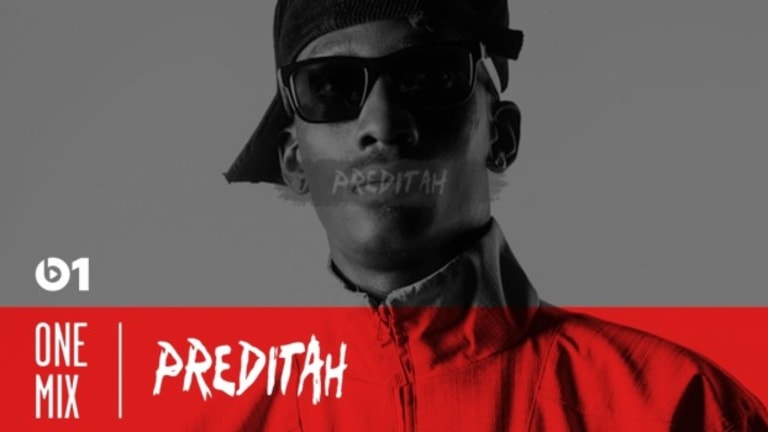 UK GRIME ARTIST PREDITAH JOINS BEATS 1'S ONE MIX FOR AN EXCLUSIVE SET
Preditah embodies the raw energy of grime.
In the UK, there's a sound growing. A sound with pulsating energy. Sharp, grim and unrelenting.
Grime is on the rise.
Originating in the early 2000's of London, the genre picked up sounds from UK electronic music styles like garage and jungle, while taking influence from raggae and hip hop as well. Grime is really a beast of its own though; dark, gritty and visceral. Lyrics, particularly in rap, often play with the rest of the soundscape to create a unique and absolutely captivating atmosphere.
You may have heard of popular grime artists like Stormzy, Skepta and Dizzee Razcal in the headlines. More so, grime made global waves whenKanye West highlighted the grime scene at the BRIT Awards, and when Drake sampled a line off Skepta's "That's Not Me" on "Used To," with Lil Wayne.
Grime has deep roots, and it's flourishing where it started, in the UK.
One of today's biggest figures in grime is Nathan Gerald, better known by his stage name Preditah. Born and bred in Birmingham, Preditah began spiralling into stardom in 2011 when famed English MC JME gave him a shout out on Twitter. He cemented his status with his debut EP, Solitaire. From there on out, he's continued to impress with consistent releases and fresh production. While he is a true grime enthusiast, his sound is layered and diverse, flowing through many genres like garage, 2-step, house and bassline.
Preditah will be performing a special set for Apple Music's Beats 1 One Mix today. Expect some of Preditah's best remixes alongside tracks from DJ Q, Krept & Konan, Bugzy Malone, Jammz and many more. Tune in to hear what the hype is all about.
[TUNE INTO BEATS 1 #ONEMIX]
Air Dates:
Friday 27th October 2017 - 16:00 LA / 19:00 NY / 00:00 UK
Saturday 28th October 2017 - 04:00 LA / 07:00 NY / 12:00 UK

Apart from his distinct production, fans revere him for his gripping live performances. In particular, he's toured with Skepta, and played a few electrifying Boiler Room sets, like this one in Leeds.
Preditah has raw talent, bringing forth a bass heavy sound that is menacing, rough, almost jagged; yet melodic and often times even minimal. He has a pretty unique style, one that continues to catch ever more attention.