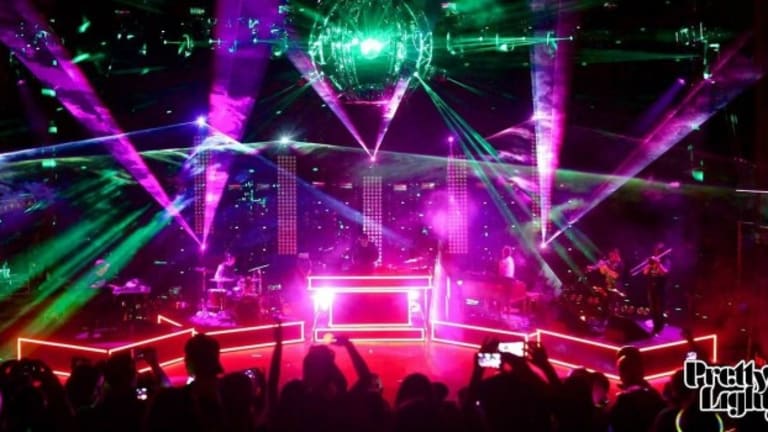 Pretty Lights' Island of Light Drops Lineup, Tickets on Sale Friday
Island of Light unveils its tropical location.
The Island of Light is getting brighter with a stacked lineup and specific location announced today for the three-day, first-of-its-kind festival in Puerto Rico.
Nearly a month has gone by since the singular promotional poster was posted on Facebook, including almost no information about the event except the dates - smack in the middle of winter in the US - and a jaw-dropping photo of a tropical paradise. The kind of cliffhanger that makes fans hover over the book flight button panting for more details.
Go ahead and book those flights y'all, because now we know the not-so-secret venue for Pretty Lights' first festival: El Conquistador Resort in Fajardo, Puerto Rico. The photo on the resort page is just as vibrant as the Island of Light poster, and to make the deal even, um, richer, Palomino Island, a private oasis, sits just offshore from the resort. The city of Fajardo is known as a hub for water sports and is one of the lushest parts of Puerto Rico, home of the bioluminescent Laguna Grande, lots of marine life and El Yunque National Forest.
Along with the alluring location, an equally impressive lineup of artists is set to accompany Pretty Lights at this destination fiesta. With top tier acts like Thievery Corporation, Atmosphere, Tycho and Gramatik sharing the stage with sell-out status bands like The Floozies, Manic Focus, Lettuce, Emancipator, Ganja White Night, Bass Physics, Late Night Radio and more, there's destined to be the perfect blend of reggae rhythms and funky, jammy, melodic BASS vibes taking over the island. Not to mention the main act, Pretty Lights is probably a massive understatement for the show we're going to see. I'm thinking "mind-blowing lights" will be more accurate.
Festival packages are being announced Wednesday, and tickets go on sale Friday, May 12th at 12pm EST, so be ready. Family holidays may just be off the deck for this year, this is going to be an experience no raver will want to miss. Who knows what the producers have in store, as this will be one of the first EDM festivals held on the grounds of an actual resort.
Can you say all-inclusive festival? We won't know til Wednesday, so stay tuned!
Cover photo courtesy of Pretty Lights