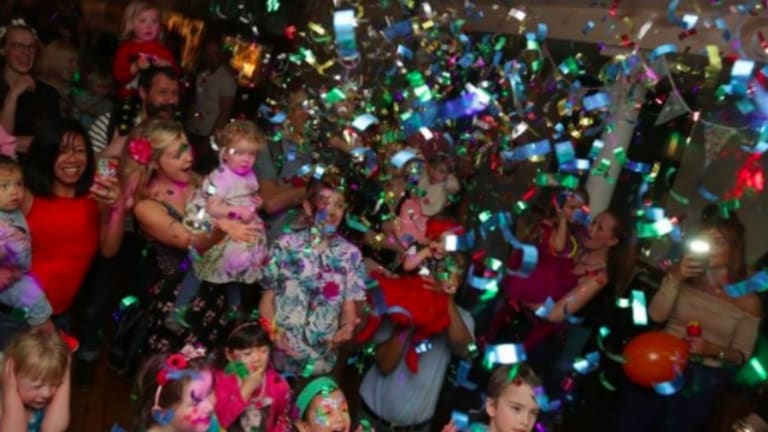 Dance with Your Kids at Raver Tots – Yes, it's a Real Thing!
Move over mom and dad, this rave is for kiddos!
"Silly parents, raves aren't for kids."

That's what many boring, unimaginative adults would say. Adults who probably never went to raves themselves, or never went to one sober enough to recognize the beautiful, powerful, life-enhancing benefits of raving, sans las drogas. God forbid we should ever turn into one of those daft humans!
Because the truth is raves are for kids. In fact, raves bring out the kid in all of us, which is why many adults who grew up in rave culture don't want to sacrifice those experiences once they become parents. The music, the dancing, the wonder and spontaneity, the abandon, the lasers! Why wouldn't we want to share this kind of free-hearted party with everyone we can, especially our kids?
Most everything about a rave can be duplicated on a G rated scale, and companies doing just that are a growing phenomenon in the UK. Just like real raves, these kid raves feature electronic DJs, dance floors, inflatable unicorns, bubbles, GloFX rave wear (and craft areas to make your own), hand stamps, kid-friendly bars, costumes, adorable toddlers in blackout sunglasses, lasers and lights and of course, sick drops (at safe decibels)!
Raver Tots has resident and rotating DJs representing the best in old skool rave, drum and bass, house and UK garage sounds. Rave-A-Roo is based out of the world famous London nightclub, Ministry of Sound, and their regular headliner, Go! Go! Go! Electro, perform often on Nick Jr.
Big Fish Little Fish was started by a raver mom who loved clubbing and watching her kids have fun at all kinds of festivals. They throw parties for entire families at unique, quirky venues like art spaces, clubs, pubs, festivals, even warehouses, and have over a dozen mixes on their website with hours of extremely danceable, kiddified beats. Listening to just a few minutes of one I could imagine my six-year-old niece having the time of her life at one of these raves designed just for kids.
It seems appropriate that kid raves are starting in the birthplace of rave culture, and so far they're a hit in the UK. What do you think? Would you take your nephew, little sister or your own kid to one of these?
I've seen toddlers and even babies too young to walk at Bass Center and this year I saw a ten-year-old year old girl on her dad's shoulders at Global Dub Festival. American rave parents definitely want to share the love, do you think this idea would take off in the US?
H/T: Dancing Astronaut
Cover photo courtesy of Big Fish Little Fish Events