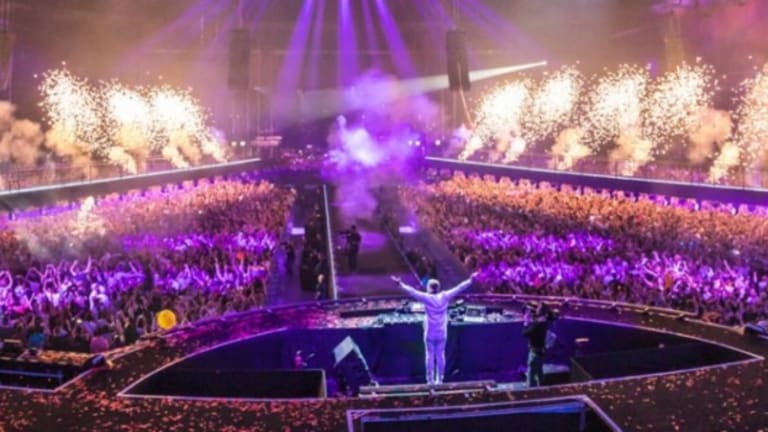 Armin Van Buuren Releases Epic 19-Minute Recap Video For 'The Best Of Armin Only' [Watch]
Relive the moments from an epic recap video for when 80,000 fans from 97 countries came together under one roof to experience the magic of Trance legend, Armin van Buuren at 'The Best Of Armin Only'
The words Armin van Buuren and legendary, epic, unparalleled, just seem to go synonymously with each other. When one attends an Armin event, one thing is for sure, you're going to come out of it feeling this sense of euphoria you've never felt before!
So, when Armin van Buuren decided to take over the Amsterdam Arena in May this year for his single largest ever solo gig, it was bound to be nothing short of magical and unbelievable. 80,000 fans from literally all over the world, from 97 different countries, hiked down to the arena to experience the Trance God like never before.
As if a 4 hr set by the man of the moment himself wasn't enough, Armin had a host of incredible guest performances by Gavin DeGraw, Mr. Probz, Trevor Guthrie and a lot more of his fabulous collaborators from the past joining him.
When there is a chance to re-live a 'once in a lifetime' experience like 'The Best Of Armin Only,' we can do nothing short of welcome it with open arms and "Embrace" it. And come yesterday, that is exactly what went down. YouTube was hit with an immaculate 19 minute recap video of this very spectacular Amsterdam Arena event, complete with the torrential lasers, blasts of fireworks and all the magic that it entailed. The breathtakingly spectacular opening, to the incredibly immaculate overall production, this video ensures nothing short of 19 minutes straight of goosebump inducing awesomeness for every devout Armin fan out there!

This video also expressed the insanely powerful synergy that Armin has with his devoted fan base and makes it undeniably clear that Armin van Buuren's shows will go down in history as scene-defining moments to remember!
Speaking about his reactions to on watching the recap video Armin said,
"When I saw this video for the first time, it immediately felt like I was right there in the heat of the moment. Corrino did an amazing job with the live registration of the show as well as with this edit and I hope this will help my fans either relive the wonderful time we had together in the Amsterdam ArenA or dive into the show for the first time as if they were right there in person."
Well, all that leaves us with is with now is, to let you watch the video above, experience it and relive it if you were lucky enough to have been a part of it! In the words of the trance legend himself, "THIS is what it feels like!"