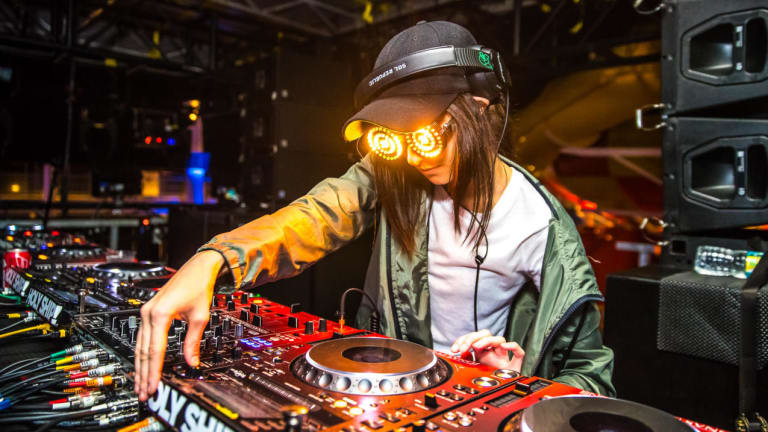 Watch Rezz Hold the Baby that Fans Named After Her for the First Time
These Rezz fans took their love of her music to a new level!
It's well established that Rezz fans are something of a cult. Case in point: they call themselves one. That said, one couple has officially raised the bar on their fanaticism by naming their child after the DJ/producer.
"Baby Rezz," as the internet is calling her, received her name after her parents watched Rezz perform at last year's edition of Bonnaroo Music & Arts Festival. After a member of her team spotted the couple with baby in tow at Austin City Limits Music Festival yesterday, he brought them backstage to meet her.
Rezz' expression says it all. The "Synesthesia" producer appears simultaneously touched and flabbergasted by the gesture, with a touch of maternal instinct thrown in for good measure. This line that makes the whole video: "I've never held a baby - actually, I think I have once." 
After her massive 2015-2016 breakthrough, Rezz (real name Isabelle Rezazadeh) emerged as a household name in the EDM world. Following her 2015 debut EP, Insurrection, she signed to deadmau5' Maustrap imprint in 2016. Since then she has released efforts like The Silence is Deafening and Something Wrong Here, garnering a worldwide fan base for her distinctive signature sound. Her most recent album, Certain Kind of Magic, came out in August of 2018. 
Rezz will continue her tour with a performance at Red Rocks Amphitheater in Morrison, Colorado on October 13th. The following day she will return for the second weekend of Austin City Limits.
Follow Rezz:
Facebook: https://www.facebook.com/OfficialREZZ/
Instagram: https://www.instagram.com/officialrezz
Twitter: https://twitter.com/OfficialRezz
SoundCloud: https://soundcloud.com/official-rezz