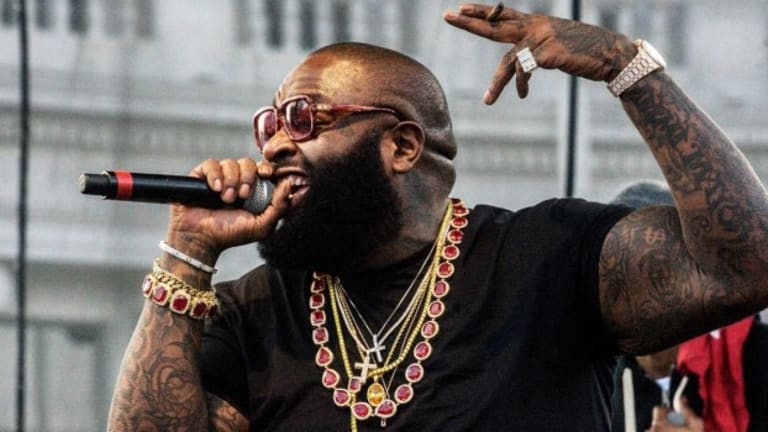 Rick Ross On Not Signing Female Rapper to Maybach Music Group
Rick Ross on his sexist business model for Maybach Music Group.
"Biggest boss and I been the trillest, I'm a bigger problem when I click with Skrillex" rapped boss man at Maybach Music Group and Wingstop, Rick Ross on Purple Lamborghini!
Well, we'd be safe to say he's got bigger problems on his hands then clickin' with Skrillex right here. Ross has been known in the past to have made some rather snarky comments, let's not forget by way of his lyrics too about how he feels about the fairer sex.
While promoting his upcoming music competition based show, Signed, set to air on Vh1, in a recent interview with Power 105.1's The Breakfast Club, he ended up revealing his sexist business strategy for the Maybach Music Group label. He says he doesn't sign on female rappers cause "I would end up fuc*ing them."
When Angela Lee, the only female interviewer on the show asked Ross if he'd sign any female rappers on with MMG he went on to say,
"You know, I never did it because I always thought I would end up fu*king the female rapper, fu*king the business up. I'm so focused on the business. I gotta be honest with you! She looking good, I'm spending so much money on the photo shoots, I gotta fu*k a couple of times."
When this came off as an apparent joke from the reactions that followed from all the men in the room, Lee didn't quite seem to leave it there. She went on to ask him if it were a case where he'd mentor and get on maybe a 17 year old. To this he went on to state the example of Brianna Perry, who he mentions is like family. But right after goes on to tell Lee, that well if it came to a female rapper who was like her (Read: A hot piece of meat - Exactly what he was treating her like all through) it'd be a different story he said rather sleazily.
Ross however seems to have learnt nothing from the massive backlash he'd faced in 2013 for his lyrics on Rocko's "U.O.E.N.O." With lyrics that went "Put Molly all in her champagne, she ain't even know it/ I took her home and I enjoyed that, she ain't even know it." He'd gone on to brush things off with a line for an apology, but clearly it didn't mean much and here we are again.
These comments come off as nothing short of the textbook definition of sexual harassment at the work place, we'd like to see how this plays out for the female contestants on Signed. Considering Ross was promoting the show on Power 105.1, which is a hunt for the next big thing who will go on to be signed by MMG, should we write off the female participants already? Or should we consider in the light of these recent comments they've got the memo of what they're in for?
Known for his misogynistic statements and lyrics from the past, this one didn't come as much of a surprise, but it sure did prove to come on as a wake up call as to how easily the 'men in music' say things like this ever so often, objectify women and get away scot free with it! Your thoughts?
H/T: Stereogum