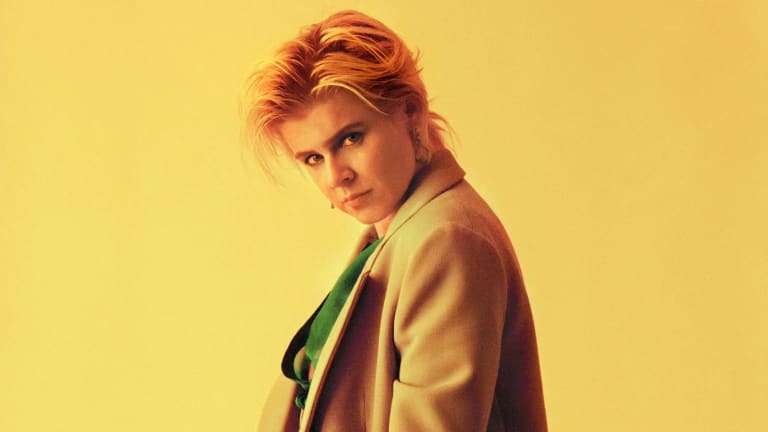 Watch Robyn Use a Selfie Stick to Rock Out to "Dancing On My Own" in Quarantine Video
Grab your selfie stick and have yourself a dance party.
A little over ten years ago, the music world was rocked when Robyn released "Dancing On My Own." The song would go on to become an unofficial anthem for the LGBTQ+ community, universally uniting those who've felt cast away to the shadows through the themes of isolation and loneliness. To this day you can't go to a Pride parade and not hear this track being belt out by the masses.
The song now comes with a different meaning due to the unwavering stay at home ordinances in place amid the COVID-19 pandemic, and its beauty has now been reignited by the queen herself. She recently shared a quarantine video, which is directed by Crille Forsberg, Maria 'Decida' Wahlberg, and Robyn herself, in which she performs "Dancing On My Own" while holding a selfie stick.
In the video, which was originally part of Mark Ronson's Love Lockdown Quarantine Dance Party, the Swedish singer can be seen throwing her own private dance party at home in a room full of mirrors. She is also now calling on her fans to create their own through an accompanying TikTok challenge. 
Earlier in the month of June, Robyn celebrated the 10-year anniversary of "Dancing On My Own" by speaking with BBC Radio 1 Newsbeat. "'Dancing On My Own' sometimes felt like a teenage version of me that I was happy to let go of," she said. "I went through a lot of therapy, worked on myself and healed myself. Now I'm back loving it. I don't feel conflicted and I love performing it and playing it live." To that end, she's also been a vocal advocate for mental health awareness, recently appearing on Annie Mac's "Changes With Annie Mac" podcast to discuss her experiences in therapy. 
FOLLOW ROBYN:
Facebook: facebook.com/robyn
Twitter: twitter.com/robynkonichiwa
Instagram: instagram.com/robynkonichiwa
SoundCloud: soundcloud.com/robyn