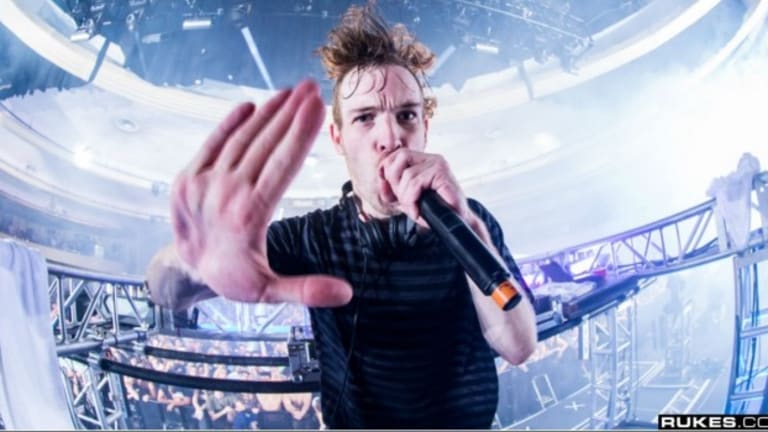 RUSKO Shares Update That He is Cancer Free!
Finally, some good news for a change!
Today is one to celebrate for dance music fans everywhere, because the Woo Booster himself announced (unofficially) that the cancer that hijacked his body almost a year ago is gone!
Just a few hours ago, Rusko was sitting in a UK hospital room with his vampire doctors (because they take so much of his blood) learning the news that they found no trace of the lymphoma cells that had invaded his body six months ago.
Talk about WOOOOOOOOOO!!!!!!
Back in April, while on a stint in the US playing 420 shows and recording, Chris Mercer announced to fans that he'd be canceling all shows for the summer and flying back to the UK to continue treatment. In a previously planned video interview with the dub star, YourEDM was the first to hear the news that Chris himself just received today - no more cancer.
During a visit to the ER for what he (and the doctors) assumed were kidney stones, Chris received the news that the reason he'd been sicker than ever, unable to eat or drink for days, was because of gastric lymphoma, a type of stomach cancer.
"I went for the scan to check for kidney stones, and this dude, totally casually, came and sat down next to the bed and said, 'So, we've found a bunch of cancer, and we want to get it biopsied and do this test … just like dropped it like it was nothing. He totally didn't prepare me at all. He was so casual I didn't believe it at first."
Chris didn't have health insurance, and with a bill in the tens of thousands already from two days in an American hospital, he was anxious to get back to his home country to be treated. Once stabilized, that's exactly what he did.
Chris' bones and muscles were aching worse and worse every day, some of which was caused by tumors pushing against his spine and rib cage. Upon further examination at home, doctors discovered lymphoma cells not only in his stomach, but in his blood, organs and bone marrow. The cancer had been slowly taking over his body since before Christmas last year, and he didn't even know it.
"It was like a double blow. The first one is like 'Holy shit, cancer' and then I find out it's everywhere."
Along with this devastating news, there was some silver lining, or at least several factors in Chris' favor. His age, healthy (for the most part, he says) lifestyle, ability to take time off for treatment and rest, and the fact that lymphoma is one of the most treatable cancers, with a 75 percent survival rate, all made for an encouraging prognosis - as encouraging as any part of "You have cancer" can be.
"It was really scary, but I knew that the statistics don't like. The survival rate said it was more likely that I would survive with treatment than not survive. But there's still the percentages, you know. There's still the 25 percent of people who don't make it with treatment. So it was really scary, but you focus on the positives and the fortunate position I was in."
In May, Chris began an escalated chemo treatment, the kind that "kicks your ass more while it's treating you, but the likelihood of success is much higher." This more aggressive treatment isn't one they would have offered Chris if he was older or had a weaker body because of poor lifestyle choices.
"The main challenge at first was the extreme tiredness and recalibrating how to get through my day. Walks that would normally take me five minutes took me half an hour because I had to stop and go so slow."
Chris lost about 90 percent of his taste, a common side effect of chemo, and is just now regaining it, which he says is a really exciting part about being in the end of treatment. He's totally changed his diet since he's discovered a new taste for things like tomatoes, toast with marmalade, and citrus, because those are the only flavors that came through when his senses were dulled.
"I feel more wasted than I ever have in my life, but the pain I felt at first is gone. I used to take handfuls of pills everyday and now I just take one anti-sickness pill in the morning. It's a weird relief combined with extreme heaviness of being battered with all these gnarly drugs for months on end. But mind, it's not the first time I've been battered with gnarly drugs for months on end, haha. These ones are just less enjoyable."
Chris has quit smoking, however, because "when your life's on the line, you gotta kick yourself in the butt a little bit." His hair is coming back and Chris says he's super grateful and excited to get back to the work that he loves.
"I feel like I've been reset and have the chance to come at it again fresh. I have a new energy and feel ready to take stuff on, but still have to listen to my body. I'm definitely gonna have to play a couple gigs for the nurses and cancer doctors here in the UK sometime."
Rusko did mention he had loads of new music coming out as he was beginning treatment last spring, so maybe they'll be the first to hear it! We couldn't be happier to hear this news and celebrate with Rusko for this victory today!
H/T: YourEDM