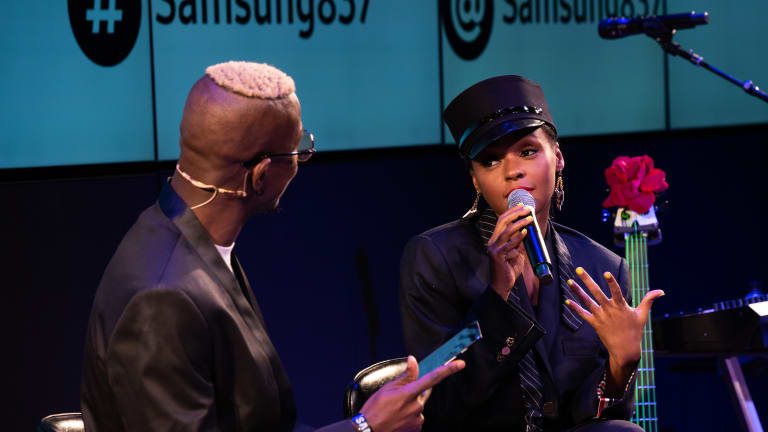 Samsung Releases the Galaxy Note9 and Celebrates with Janelle Monáe
There just has to be an epic celebration for the super awesome new Samsung Galaxy Note9.
Last Friday the Samsung Galaxy Note9 hit the shelves and to celebrate the retail launch Samsung 837 threw a super celebration with talented singer/actress Janelle Monáe.
The night started off with some time for everyone to try out the new super phone with interactive installations that highlighted different phone features. For example there was a special Janelle Monáe themed one where you took a selfie and outlined it with the new and improved S pen.
And the S pen isn't the only awesome thing about the Galaxy Note9. If you want all the juicy details on its features go here, but for a quick rundown:
4,000mAh battery
Storage options of 128 GB and 512 GB (and the ability to expand storage up to an additional 512 GB that gives you 1 TB of storage)
New and improved S Pen with Bluetooth connectivity
Intelligent camera
In true Samsung 837 fashion, you can't have a celebration if you don't have an epic guest appearance. Janelle Monáe sat down for a short Q&A about her career and new album, Dirty Computer, and gave a phenomenal performance to boot!
Even though it seems like a small stage area, Janelle Monáe had a full band and dancers performing alongside her to fan favorites like "Tightrope" and "Make Me Feel" and even a few from her new album like "Dirty Computer," "Crazy, Classic Life" and "Screwed." 
Now most artists who play at Samsung 837 simply perform their music, but Janelle Monáe went all out. She changed into three different costumes (which were very stylish) and she even used the throne that's in her "Django Jane" music video. There was so much energy in her performances that got the whole crowd going nuts. It's no doubt that her passion is evident in her music and, like she said in her interview, music is about building communities and for her it's building one for those who are marginalized.
We have to say for a super smartphone that has the mantra "Do What You Can't," Janelle Monáe was a great pick to celebrate the release of the Galaxy Note9!