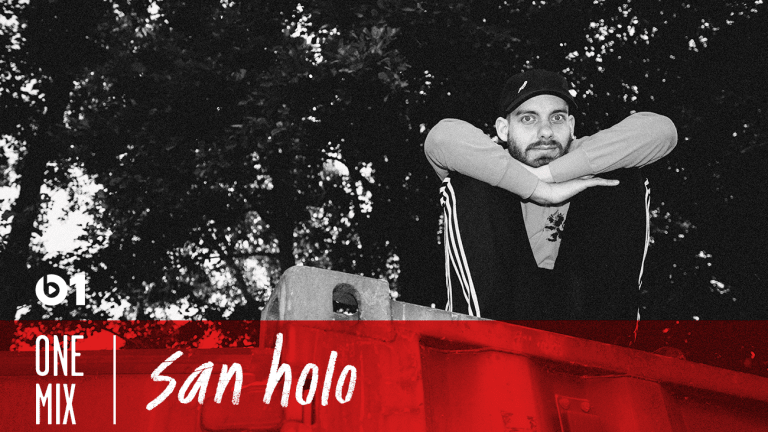 Hear Standouts From San Holo's album1 As He Heads To Beats 1 One Mix
The album is candid, vivid and emotional, the perfect embodiment of San Holo's artistic ability.
"To me, one of the most exciting things of making is expanding my own taste and giving listeners an opportunity to expand theirs. album1 showcases my love for all kinds of music, from EDM to post-rock to classical to ambient. I cant wait to take you on this journey, hope you're with me" - San Holo
Albums don't come around often in modern electronic music. EP's and singles are the norm. So it's pretty exciting when an electronic music artist pours their heart and soul into a large body of work, as San Holo has done with album1.
The album is bursting with emotion. From moody vocals to dreamy melodies, it captures everything we love about San Holo. With organic instruments like guitars playing a key role throughout the album, there's a lot of texture and depth to the soundscapes.
The songs are diverse. Some booming and emphatic, others smooth, subtle, ambient. And of course, San Holo drives it home by adding his signature blend of hope, love and nostalgia to the tracks.
The Dutch DJ is embarking on a massive fall tour to celebrate his debut album. But, before that, he heads to Apple Music's Beats 1 for a special set on their weekly radio show, One Mix. Expect an eclectic mix of new and old music, standouts from the album, and whatever blissful tunes have been catching San's attention recently.
Tune in here.
San Holo also spoke about how he envisions more acoustic and organic sounds permeating electronic music, and rejected the idea that you need to follow certain rules to fit into electronic music. Moreover, he mentioned his biggest inspiration, all-time favorite festival, favorite throwback track, among other things.
Your first show experience?
The first show I played was playing guitar in a band at a high school party. I just started learning how to play guitar and had only been taking lessons for about two weeks so it was pretty scary. The show went great and ever since that moment I knew music was gonna be a big part of my life.
First time you brought your mom to one of your shows?
The show mentioned above! But the first DJ show was at the first Gouldian Finch release party in Amsterdam during ADE. She told me she couldn't sleep for 2 days cause of the intense strobes and loud music at the party! Poor mom!
The artist who inspired you to become a musician?
John Frusciante, guitar player of the Red Hot Chili Peppers. His guitar playing and songwriting really inspired me back in the days. Other artists that really inspired me are bands like Sigur Ros, Explosions in the Sky, Boards of Canada, Flying Lotus, Baths and many many more.
Go-to places for new music?
Soundcloud still for the underground stuff, streaming services for everything else. Lately. I haven't been listening to other people's music because of the album1 writing process. I didn't want to be distracted by other sounds.
Guilty pleasure record:
I don't believe in guilty pleasures actually. Why would you feel guilty about something you like?
Desert-island dance record?
The Blaze - Virile. What an amazing record.
Dream B2B partner?
Gigi D'Agostini, a legend.
Favorite BPM?
Don't really have one, anywhere from 0 to infinity. I really enjoy playing all kinds of BPMs throughout my sets.
Piece of gear you always need on the road?
Laptop and a guitar. I love being able to record ideas wherever I am in the world!
All-time favorite festival?
I think it's a tie between HARD Summer and Coachella.
Biggest misconception about dance music?
The biggest misconception is probably the idea that you have to follow certain music rules to fit in. I feel a lot of freedom in EDM. With this album I really went all out on my freedom, I did everything that felt right to me!
How often do you get out and have fun, and where do you go?
I don't go out that often. But when I do, I usually just chill with some friends in my studio. I do like to visit vintage guitar shops in every city I'm on tour in though. I also love walking around cities on the lookout for nice restaurants
City with the most underrated dance scene?
Zoetermeer
Industry prediction for the next year?
More acoustic and organic sounds in electronic music! I feel like people are getting tired of the same old sounds, I'm excited to give people an opportunity to expand their taste!
Best piece of advice for new producers?
Work, work, work and when you feel like you're getting somewhere work 10x harder.
Dead or alive, who would be your dream collaborator?
Debussy, Moby, John Frusciante, Michael Jackson, Kanye West, Dave Grohl, the list goes on...
What is one of the unique experiences you've had backstage?
I recently met one of my all time heroes Spinvis (Dutch artist) backstage at a Dutch festival called Lowlands. He's been such an inspiration for me and I felt like a fangirl when I met him haha!
A unique travel experience you've had?
A plane ride on Martin Garrix's private jet. We were playing at the same festival. He invited me to fly back to Amsterdam that night, which was great, otherwise I had to wait a full day before coming home.
What's your favourite throwback track?
Explosion in the Sky - Your hand in mine
What's one track that fans always lose their mind to?
My first song to really take off probably, the remix of Dr. Dre's 'The Next Episode.' That or 'Light.'
What was the first album you ever bought?
Chocolate Starfish and the Hotdog Flavoured Water - Limp Bizkit
Name one remix that you think is better than the original?
I'm trying to come up with one, but just can't think of one. I usually don't think about one being better than the other. Just different. Each with their own qualities!
What song would you want (god forbid) played at your funeral?
Maurice Ravel - Pavane pour une infante defunte. When I first heard this song, it changed my life. Such a beautiful memorable composition. The melody is so strong. This song makes me cry.
What's the perfect sunset track?
Balmorhea - Masollan
What song do you listen to cheer yourself up?
Chon - Waterslide