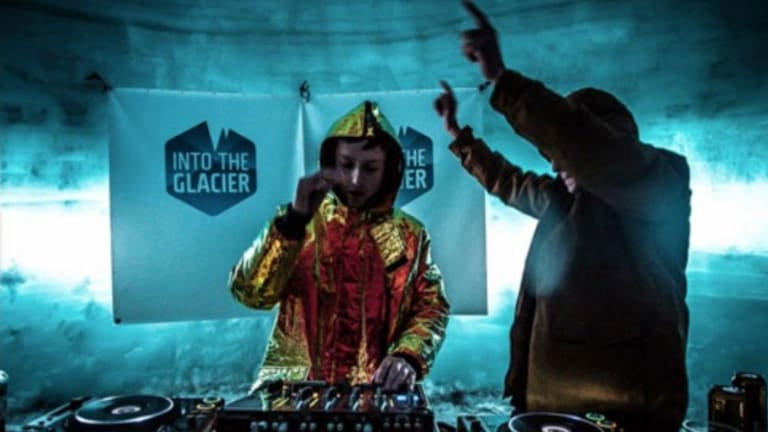 Everything you Need to Know About Secret Solstice 2017 in Reykjavik, Iceland!
Raves inside of glaciers and lava tunnels...where do we sign up?!
From endless days (literally!) of partying, to the chance to experience blissful acoustic music in a 5000 year old underground Lava tunnel, Secret Solstice is on a roll yet again to make sure not to give up their title as one of the MOST unique festival experiences on the planet!
First things first, with some stellar additions (Read: Rick Ross!) in their Phase 2 lineup, they seem to have nailed it with a high-profile list of headliners! The Foo Fighters, The Prodigy, Rick Ross, Big Sean, Chaka Khan, Seth Troxler, Dubfire, Richard Ashcroft and many more are going to be taking over Reykjavik from June 16-18th for Secret Solstice '17. In addition to this, the breathtaking scenic setting of the festival and the phenomenon of the 'Midnight Sun' during the summer solstice will be taking place during the festival, truly makes this event one to add on to your bucket list (if it isn't already on there)!
Due to Iceland's close proximity to the Arctic, the sun never sets during the summer solstice weekend when the festival is held, meaning you'd experience never-ending daylight for the entirety of the event!
In this hour of need for more festivals to "go green," Secret Solstice has that bit covered down to the tee! Secret Solstice festival director Fred Olafsson further elaborated on the event's green initiatives:
"...we try to lessen the impact of Secret Solstice in all areas, whether it's partnering up with other carbon neutral brands like Icelandic Glacial water, or working with Toyota Iceland who provide us with hybrid vehicles."
With the abundant volcanic activity being used to generate the renewable geothermal energy that powers almost the entire country, it's this very power that provides all on-site energy needs for Secret Solstice! This being one of the main reasons the event has very easily been able to achieve it'd carbon neutral status, something it's held for two consecutive years now. Way to go Secret Solstice!
Since launching these crowd pullers in their first year in 2014, Secret Solstice has always been known for their special 'side events', including the Midnight Sun Boat Party, as well as their ultra-special Secret Solstice presents Into The Glacier events. However, as has become tradition for the Icelandic music festival, they're adding a brand new music-driven nature adventure to this year's calendar as well, and trust us, it's one you DO NOT want to miss if you're there!
The location – Iceland's Raufarholshellir lava tunnels. The music - One of Iceland's prominent Acoustic musicians. Who - YOU if you're quick enough to be one of the first 50 audience members to grab your tickets! Secret Solstice presents The Lava Tunnel with two exclusive events held underground within natural lava tubes that form natural subterranean arteries. These amazing snaking chambers will play host to this phenomenal experience on June 17th and 18th for a small handful of guests. Formed over 5,000 years ago during a volcanic eruption, this one-of-a kind experience is sure to leave a mark on the exclusive audience of 50 people who are lucky enough to secure tickets for each show, which have JUST gone on sale to the general public.
Rekyavik not being one of the easiest places to reach, Secret Solstice has even that taken care of for you this year! In partnership with WOW air, Secret Solstice are offering All-in Package deals from North America and Europe including flights, accommodation, and a festival pass starting at only $618 USD (Yup, All-in!) from some cities! Even better, by using the codes "wowairhotel" and "wowaircamp" (depending on what accommodation you're choosing to go with) at checkout, early buyers will receive 20% and 25% respectively, while these limited deals are available!
Whether it's the lineup, Iceland's stunning nature and landscapes, 72 hours of never-ending daylight or the spectacular event experiences you won't find anywhere else, Iceland's Secret Solstice seems like it is all set to keep its title of the "most unique festival" on the planet yet again in 2017! Go ahead and get booking NOW, you can thank us later! >> http://secretsolstice.is/