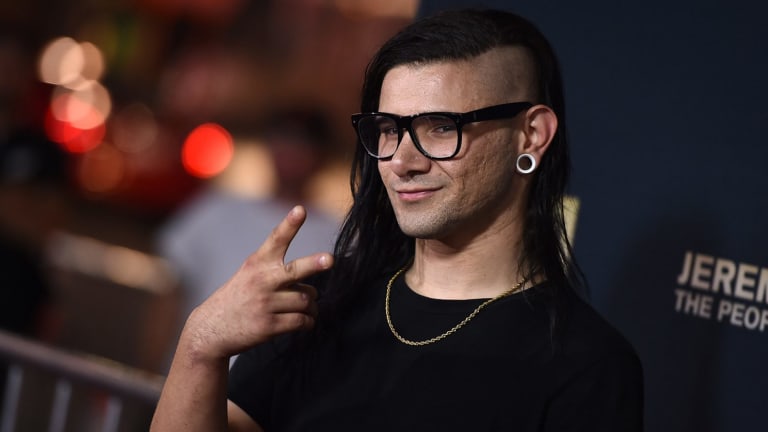 Skrillex Says Excision, Flux Pavilion Influenced His Early Sound
In an interview, Skrillex recalled trying to make music that artists like 12th Planet and NOISIΛ would play in a set.
Few artists played as big of a role in the EDM decade as Skrillex, making his reflections on the past ten years as relevant as ever. In a rare interview he discussed his humble beginnings, among other things, highlighting the influence of artists like Excision, Borgore, NOISIΛ, 12th Planet and Burial on his breakthrough sound.
"In L.A., guys like 12th Planet were bringing the old-school sound and mixing it with some of the newer kids from the U.K.," said Skrillex (real name Sonny Moore) in conversation with Dazed. "They were bringing back Doctor P records and playing them in LA before they were out, like 'Sweet Shop,' and 'Gold Dust' by Flux Pavilion when that was brand new. I was also hearing what guys like Excision were doing, and Borgore."
Moore went on to say that dubstep parties had been sparse in L.A. around 2010, but attending one led him to purchase Untrue by Burial at Amoeba Records. "So I was just in my warehouse with some blown KRK speakers trying to make music that Flux Pavilion, 12th Planet, Bare Noize, Noisia would hopefully play in a set," he said.
He also spoke about the initial reception of his first two EPs, recounting how the media had dubbed them commercial. Perhaps most telling were his remarks about the impermanence of dubstep's "moment," however. "It wasn't gonna be forever," he said. "When something shifts, everyone becomes super frazzled. The whole world doesn't know what to do – including the financial stuff, including the money, including the radio stations. I knew it was going to be a tornado, and the dust was gonna settle."
Meanwhile, Moore has recently alluded to having more than one album on the way. He is slated to close out the decade with performances at Decadence Arizona and SnowGlobe Music Festival in Lake Tahoe, California.
FOLLOW SKRILLEX:
Facebook: facebook.com/skrillex
Instagram: instagram.com/skrillex
Twitter: twitter.com/Skrillex
Soundcloud: soundcloud.com/skrillex