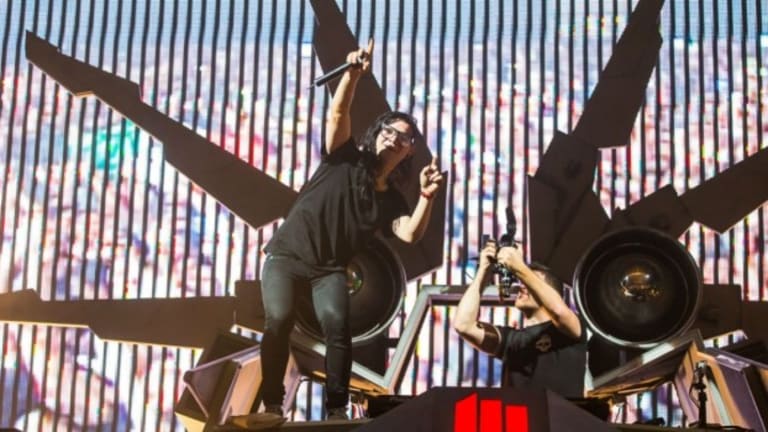 Skrillex Fan Awarded $4.5 Million for 2012 Belasco Stage Dive Injury
Of the sum, Skrillex had to pay plaintiff Jennifer Fraissl $1.6 million dollars himself.
Skrillex stage dived into the audience during a 2012 performance at The Belasco Theater in Los Angele, California. An attendee he struck named Jennifer Fraissl experienced a seizure days later, and she has now won a lawsuit against him, his touring company, and the venue totaling $4.5 million.
A court found Fraissl to be 15% responsible for the injury, so she was not awarded the full amount. Skrillex himself must pay $1.6 million, and his touring company, Lost Boys, will have to pay another $1.8 million. Finally, The Belasco must compensate Fraissl to the tune of $450,000.
"There is nothing more important to me than my fans and their safety at my shows," Skrillex said in a statement following the ruling. "I want them to have fun and enjoy the music."
Skrillex's lawyer, Barry Thompson, remained skeptical. "Ms. Fraissl's active international travel schedule since her stroke seems unlikely for someone who suffered the type of mental and physical damages she and her attorney claimed," he told TMZ. 
Skrillex's next performance is slated for December 8th, 2018, at Electric Jungle Music Festival in Foshan, China.
H/T: Dancing Astronaut
FOLLOW SKRILLEX:
Facebook: https://www.facebook.com/skrillex
Twitter: https://twitter.com/Skrillex
Instagram: https://www.instagram.com/skrillex
SoundCloud: https://soundcloud.com/skrillex