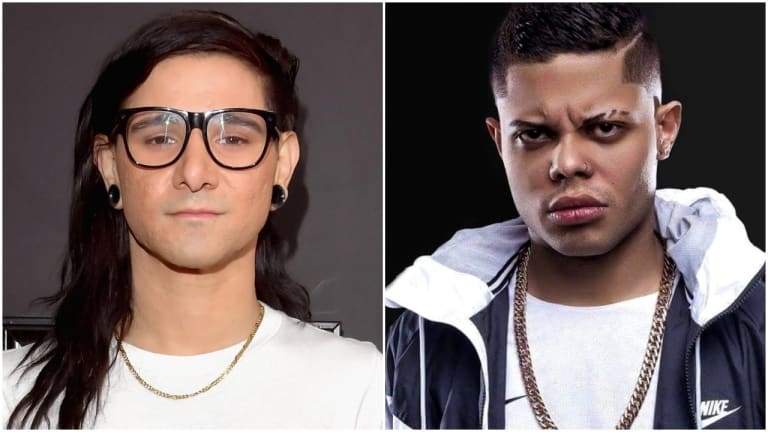 Lan Says He Has a Total of 3 Skrillex Collabs on the Way
In addition to "Malokera," Lan has teased two features on Skrillex's upcoming album.
Skrillex was recently revealed to have a hand in a collaboration titled "Malokera" alongside an international array of talent. Among them is Brazilian emcee Lan, who appears to have said that he has two more collaborations with the Los Angeles DJ/producer in the works.
In an apparent screen shot from an Instagram comment thread, Lan (real name Caio Alexandre Cruz) corrected a user who predicted that "Malokera" will appear on an upcoming Skrillex (real name Sonny Moore) album. When translated into English from Portugese, Cruz' response clarifies that the "Malokera" - a favela funk song with trap elements - will appear on his own album whereas two dubstep collaborations will appear on Moore's upcoming effort.
Following his 2018 hiatus from music releases, Moore is making 2019 count. He followed up the release of he and Boys Noize's collaborative Dog Blood EP, Turn Off The Lights, with a two-song EP titled Show Tracks. Cruz' apparent claims fall in line with comments previously made by Moore suggesting that another effort isn't far behind.
Neither Moore nor Cru have publicly disclosed titles or release dates for any collaborations other than "Malokera" at the time of writing. In the meantime, the latter artist has also teased the below video clip of himself performing the presently confirmed single live:
FOLLOW SKRILLEX:
Facebook: facebook.com/skrillex
Twitter: twitter.com/Skrillex
Instagram: instagram.com/skrillex
SoundCloud: soundcloud.com/skrillex
Follow Lan:
Facebook: facebook.com/pg/originalmclan
Twitter: twitter.com/mclan
Instagram: instagram.com/mclan
SoundCloud: soundcloud.com/mclanoriginal