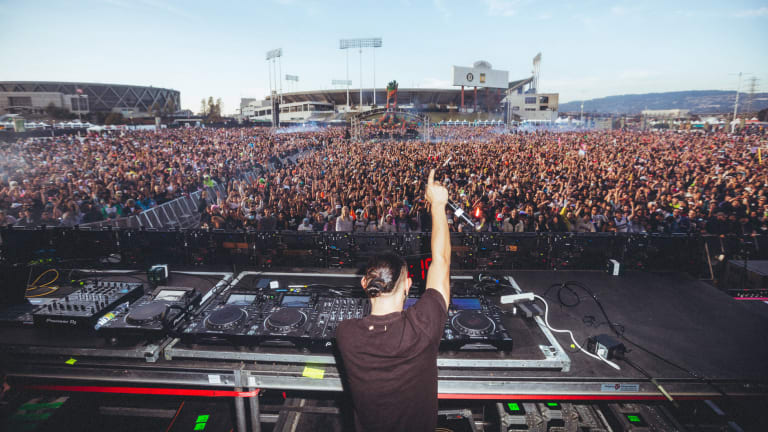 Welcome to 2023, the Year of Skrillex
Skrillex wasted no time confirming the long-awaited release of multiple albums in 2023, a year that could hatch a paradigm shift in electronic music.
Cue up the Michael Scott memes, because it's happening.
Countless headlines pertaining to new albums from Skrillex—yes, plural—have ran ad nauseam for years. They've been tantamount to torture for fans of the dubstep icon, who shed his skin as the poster boy of "brostep" and became one of the world's most prolific contemporary music producers.
It's been almost a decade since Skrillex's last album, 2014's seminal debut, Recess. But fans can finally heave a sigh of relief after he confirmed the release of two albums in 2023.
Considering the teaser doesn't reveal release dates, it's not quite the smoking gun that fans had in mind, although they'll surely take it. That, however, came just days later, when Skrillex took to social media to confirm the release of "Rumble."
The track, a hotly anticipated collaboration with Fred again.. and Flowdan, quickly went viral after the former played it in his breakout Boiler Room debut in London last summer. "Rumble," which hit streaming platforms on January 4th, likely marks the start of Skrillex's double-album rollout.
The sheer amount of unreleased music in the Skrillex ecosystem has become the stuff of myth. Studio sessions with Justin Bieber, Missy Elliott, Ty Dolla $ign and countless others have fed the fire and amplified the hype to a fever pitch. 
And while it's certainly exciting to salivate over it all, the music is compelling not because of its star power, but because of its inevitable impact on the electronic music community at large.
Skrillex is the rare artist whose music reveals the true quiddity of his influence. In other words, when he releases new music, he changes everything. It's so innovative that it inspires the scene's vast community of electronic musicians to reevaluate their approach to production.
After the release of these albums, it's not a stretch to say we'll be watching a paradigm shift unfurl in real time.
Back in August 2021, Skrillex confirmed he was working on multiple bodies of work and said he had "so much to express" after reflecting on the scourge of the pandemic.
"It's obviously been a challenging couple of years for all of us, and I think there's been a blessing in disguise because I was going to put out maybe some music before Covid or right around when Covid was going to hit and then that hit and I decided just to go back in and explore more and more, which I'm glad I did," Skrillex at the time. "And for better or for worse, there's so much to express."
FOLLOW SKRILLEX:
Facebook: facebook.com/skrillex
Twitter: twitter.com/Skrillex
Instagram: instagram.com/skrillex
Spotify: spoti.fi/30OEWUh