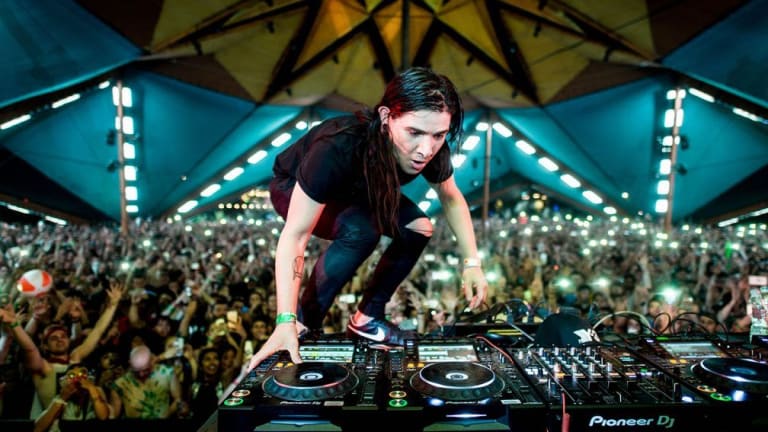 Skrillex Creates a Stir After Stepping on Equipment Mid-Performance
The seemingly innocuous clip sparked quite a conversation online.
During a recent performance in Shanghai, China, Skrillex posted a clip that showed the producer was stepping on top of the Pioneer CDJs and mixer. 
Everyone who has seen Skrillex (real name Sonny Moore) live knows he does not hesitate to jump on top of the table in the middle of his performances. The clip from his Shanghai performance caused quite a stir amongst fans who were confused as to why Moore would stand on the equipment itself. 
The incident sparked many mixed reactions. Many were upset to see what they believed to be mistreatment of the equipment. The fact that a pair of Pioneer CDJ's retails for thousands, only helps their case.
On the other side of the argument, others brushed the incident off as ultimately inconsequential as it did not appear his intent was to damage the equipment. Even so, however, Skrillex is considered by many as a modern day rockstar and many believe he has a right to be rough with the equipment in the heat of a performance. 
Pioneer even took the chance to weigh in with the responsible answer likely everyone will agree on: don't try this at home. 
FOLLOW SKRILLEX:
Facebook: facebook.com/skrillex
Instagram: instagram.com/skrillex
Twitter: twitter.com/Skrillex
Soundcloud: soundcloud.com/skrillex