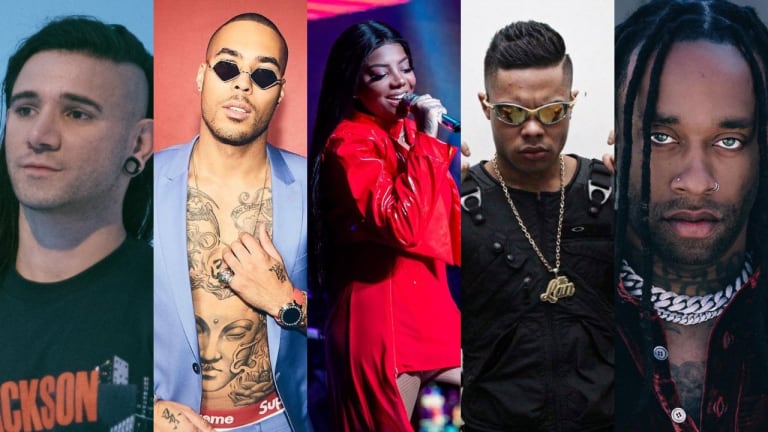 Skrillex and Troyboi's "Malokera" Music Video Released
The mega-collaboration was quick to receive its own music video.
Skrillex and Troyboi's stacked collaboration "Malokera" has received its own music video. The track, which was released just shy of two weeks ago, also features Brazillian artists MC Lan, Ludmilla, and Ty Dolla $ign.
The funk-dance collaboration followed shortly after Skrillex and Troyboi's trapped out single "WARLORDZ", released in June. Between then and now, collaborator MC Lan has been showing what "Malokera" can do to jumpstart a crowd during his performances. The song's music video seeks to further immortalize the track's dance-driven energy in a colorful way. 
Skrillex has not fallen short on his promise of releasing new music. The Los Angeles-based producer has feverishly been dropping new songs, and all indicators show more is on the way. 
What's on the horizon is likely to include more collaborations between the superstar producer and MC Lan. According to Lan, he and Skrillex have three collaborations in the works. We may have to sit tight for the remaining two, however, as they will likely be part of Skrillex's next album. 
FOLLOW SKRILLEX:
Facebook: facebook.com/skrillex
Instagram: instagram.com/skrillex
Twitter: twitter.com/Skrillex
Soundcloud: soundcloud.com/skrillex
FOLLOW TROYBOI:
Facebook: facebook.com/troyboimusic
Twitter: twitter.com/troyboimusic
Instagram: instagram.com/troyboi_music/
SoundCloud: soundcloud.com/troyboi
FOLLOW TY DOLLA $IGN:
Facebook: facebook.com/tydollasign
Instagram: instagram.com/tydollasign
Twitter: twitter.com/tydollasign
Soundcloud: soundcloud.com/tydollasign
FOLLOW LUDMILLA:
Twitter: twitter.com/ludmilla
Instagram: instagram.com/ludmilla
FOLLOW LAN:
Facebook: facebook.com/pg/originalmclan
Twitter: twitter.com/mclan
Instagram: instagram.com/mclan
SoundCloud: soundcloud.com/mclanoriginal