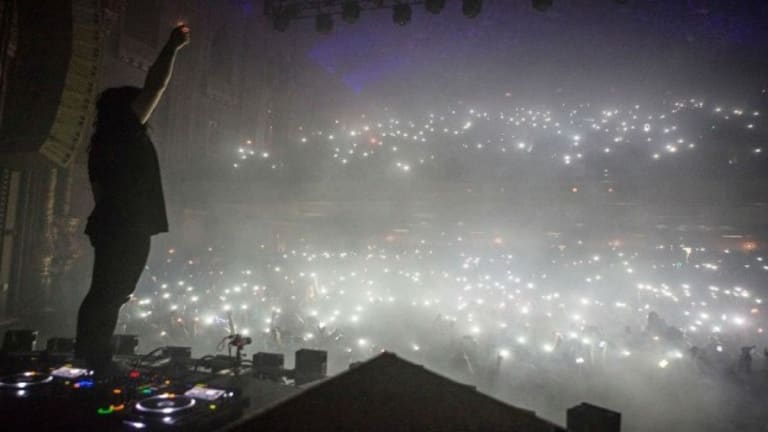 NEW ORIGINAL SKRILLEX CLIPS SURFACE TO THE OWSLA DISCORD CHAT
We need new Skrillex ASAP.
How many Skrillex tracks see the light of day?
Not many, actually. There's a trove of unreleased content on his dedicated subreddit. From original reworks, like VIP's of "Kyoto" and "Break'n a Sweat", and collaborations with the likes of his Dog Blood partner Boys Noize, Ronny J, and D.R.A.M, there's no doubt Sonny spends a lot of his time in the studio.
Now, when it comes to actually releasing those gems he's working on, we're left a little underwhelmed! His last official release was the bass house banger "Chicken Soup", with Habstrakt, around 2 months ago. But, apart from a few singles here and there, the Skrillex front has been quiet for a while. His first and only album, Recess, was released in 2014, and his last solo EP, Leaving, surfaced all the way back in 2013!
He's been busy, of course. The eight-time Grammy award winner has been bringing EDM to the forefront of the musical world, consistently touring all over the globe, reuniting with his old emo band First To Last, and, like I mentioned, steadily working on new music.
Last weekend, Skrillex shared two short clips on the OWSLA Discord chat, teasing fans and stirring massive speculation on his subreddit.
The first one is a brief 6 second clip that leaves many guessing what it will end up turning out to be, and if it will ever even officially reach our ears.
The second, titled "JUST made this shitty song :D", is a little longer and more exciting. It highlights Skrillex experimenting with new sounds, which is not surprising, as he has been fluid with his recent work - conquering trap on "Purple Lamborghini", bass house on "Chicken Soup" and taking on a hip-hop/R&B radio-friendly approach to his "Hundred Waters" remix.  
We can only hope all the unreleased content he's sitting on will be on an album or collection of EP's in the future, but who knows. It does seem likely though, given he is on a touring hiatus, and he does not post snippets like this ordinarily.
As a fan, it's comforting to know that even though he's at the top, he isn't settling. While I, and many others, wish he would delve into his dubstep roots, it's great to see him consistently working on new content, exploring new sounds and putting genuine effort into the creative process.
H/T: EDM Sauce