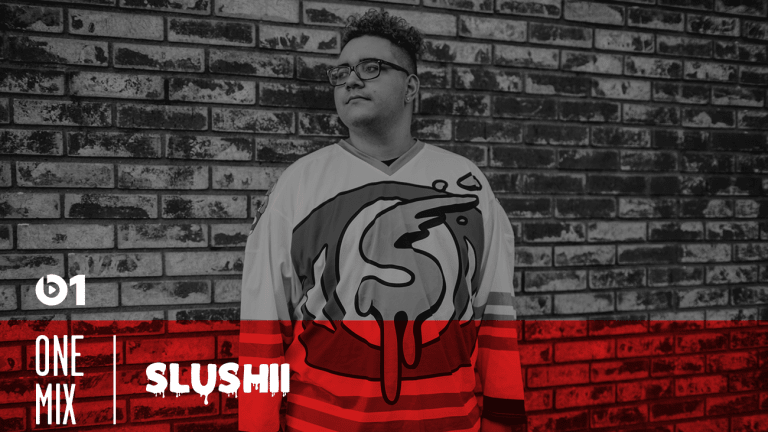 Slushii Makes His Debut On Beats 1 One Mix This Weekend [INTERVIEW]
EDM's sweetest artist has a special mix incoming.
There are only a handful of electronic music artists who have experienced growth as organic and meteoric as Slushii.
Just a couple of years ago, Julian Scanlan was living in a small suburban farm town in New Jersey, working at Best Buy. Dealing with Asperger Syndrome, he struggled socially, and the kids at school weren't exactly understanding.
But music soothed him.
He would find solace in expressing himself through sound. In his late teen years, he went by the name DJ Swoon, producing dubstep and electro. With music, pure intention and focused visualization, he began to grow, socially and musically.
Courtesy of Soundcloud's absurdly stringent violation policies, when he posted an unofficial remix, his account was deleted. Rather than lose hope, he saw it as a chance to start fresh and move forward with a solidified sound and deeper sense of artistry.
Slushii was born.
Inspired by the power of visualization, he decided his goals for 2016 would be to play a major festival, get Skrillex's attention and sign to OWSLA. He wrote them down, envisioned them vividly and believed in them with all his heart. More so, he worked tirelessly to make his dreams a reality.
Can you guess what happened next?
At Sunset Music Festival in Florida, Scanlan heard Jack U, the former super duo of Skrillex and Diplo, play out his bone-crushing remix of Skrillex's "Killa."
Just a few months later, Slushii performed his very first DJ set at HARD Summer in California, one of the top festivals in the U.S. The performance featured a surprise appearance from Skrillex himself.
Signing with Moe Shalizi, the man who manages acts like Marshmello, Jauz and Ghastly, Slushii went on to play clubs and festivals on a global scale. His sugary sweet sound grabbed the electronic music world's attention and he was an instant hit. Balancing feel-good sounds with unforgiving bass-heavy tunes, he knew where he stood as an artist.
20 years old now, he has released a string of singles and remixes, 2 full-length albums, collaborated with a bunch of the biggest artists in electronic music and performed countless shows all over the world.
This weekend, Slushii will be making his debut on One Mix, Beats 1's weekly radio show. Expect a high energy mix with music from artists like Marshmello, Wuki, Jauz, Sikdope, and of course, a selection of his own tunes. Knowing Slushii, the mix is bound to oscillate between a feels fest and a bass rager, so stay locked.
Air Dates:
Friday 9th February 2018 - 23:00 LA / 02:00 NY / 07:00 UK
Saturday 10th February 2018 - 06:00 LA / 09:00 NY / 14:00 UK
Before the mix, we fired some quick questions at the young superstar, and he fired back. Read on to see what he had to say, fun insights like his guilty pleasure record, favorite BPM and dream B2B partner.
EDM.com: Your first show experience?
Slushii: Seeing Def Leopard in concert
The first time you brought your mom to one of your shows?
Lollapalooza
The artist who inspired you to become a musician?

Skrillex hands down
Go-to places for new music?
Spotify & Apple Music
Your guilty pleasure record?

Can't Get You Out Of My Head by Kylie Minogue
Desert-island dance record?
Linkin Park - My December (reanimation remix)
Dream B2B partner?
Shaquille o Neal AKA DJ DIESEL
Favorite BPM?

147 BPM, makes dubstep at 150 feel a lot groovier
A piece of gear you always need on the road?

Earplugs and my headphones for long plane rides
All-time favorite festival? 

ULTRAAAAA
Biggest misconception about dance music?

That we all can't just be friends and make all kinds of music
How often do you get out and have fun, and where do you go?

It's day 534: Slushii hasn't left his underground analog synth silo in over a year. We actually don't even know if he's still down there to this day.
But on the real, I get out sometimes and either go to the mall, sushi, or to trampoline parks. Literally, that's my life
City with the most underrated dance scene?

Kalamazoo, Michigan
Industry prediction for the next year?

DJ's DJing while performing gymnastics. EDC b2b Winter Olympics 2018 let's make it happen.
Best piece of advice for new producers?
Be yourself. 
Learn from your inspirations and eventually, you'll be inspiring others to do the same.
Also, youtube tutorials are sick
Dead or alive, who would be your dream collaborator
Tyler the Creator!
What is one of the unique experiences you've had backstage?

Got to hold a puppy during an interview once that was sick
A unique travel experience you've had?
Going to Japan was my LIFE dream, and to be able to have gone once let alone 4 TIMES is a dream come true!
Well, there you have it. I think we all want to hold puppies during interviews, right? 
Catch Slushii on Beats 1 One Mix this weekend, and stay tuned for next week's star!
Follow Beats 1:
Website: applemusic.tumblr.com/beats1
Facebook: facebook.com/beats1
Instagram: @beats1official
Twitter: @Beats1
Follow Slushii:
Website: slushii.com
Facebook: facebook.com/slushiimusic
Instagram: @slushiimusic
Twitter: @SlushiiMusic