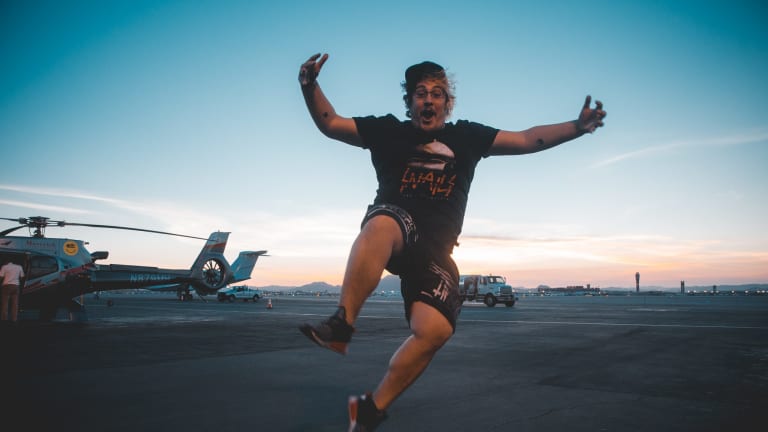 Snails presents fans with "The Shell Tour Documentary"
A 22-minute ride inside a huge 2-month bus tour!
It's no secret that Snails has been dominating the bass music game over the last years with his high energy, bright persona and heavy productions. Behind the vomitstep king lies a kid with big dreams and aspirations. Frederik Durand had to commit to making it before getting picked up by Skrillex and collaborating with names like Flux Pavillion and Pegboard Nerds, to Waka Flocka Flame and Foreign Beggars, to even Liam Cormier from Cancer Bats and Travis Richter from From First to Last.
Snails' highly anticipated debut album, The Shell, dropped October 20th last year, and marked the producer's most ambitious body of work; in terms of production, visual content and overall concept. Teased with super well-produced cryptic videos, that displayed an interesting storyline, the actual release met all expectations; displaying a heavier, more diverse and more detailed side of Snails as a producer. The Shell even managed to hit #1 on the US iTunes Charts, surpassing albums such as ODESZA's A Moment Apart and Giraffage's Too Real. 
Snails announced his huge The Shell Tour across the US and Canada, bringing a massive custom stage production, stunning visuals and support by the likes of Funtcase, Boogie T, Squnto, 12th Planet, Eptic and many more. 
Now that both phases of The Shell Tour are over, Snails decided to release a documentary, presenting everything about it. The amazingly-produced video, filmed and directed by Adrian Villagomez is all a vomitsquad member could ask, as it showcases behind-the-scenes footage from the custom stage setup, epic show footage and some background information on how Frederik Durand became the man behind the Snails project. He also wrote a heartfelt letter to his fans and mom, dedicating the documentary to her for all the support she's shown him over the years. Enjoy below!
Follow Snails:
Facebook: https://www.facebook.com/OfficialSnails/
Instagram: https://www.instagram.com/snailmusic/
Twitter: https://twitter.com/snailmusic
Soundcloud: https://soundcloud.com/officialsnails