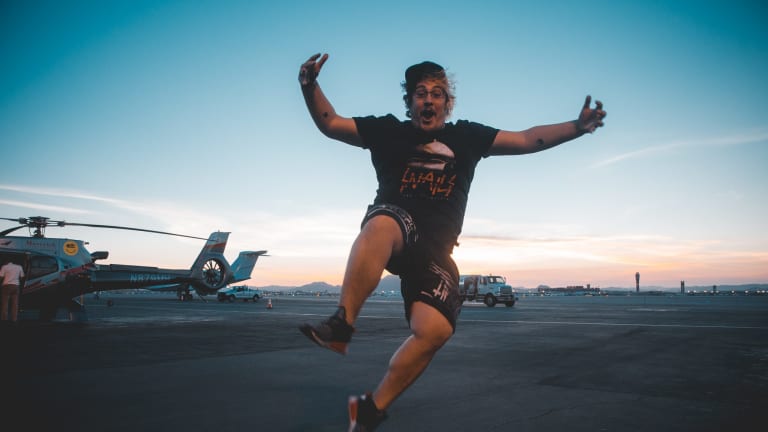 Laidback Luke, Dirtyphonics and More Want to Play a "USB Roulette" Party Hosted by Snails
Everyone's a DJ until they have to play from someone else's song library.
Right when it seems like every party concept has been done, Snails may have come up with the next big thing. The "vomitstep" innovator has proposed an idea he calls "USB ROULETTES" (we suspect he may have meant "roulette") and some of EDM's heaviest hitters have already offered to participate.
As Snails (real name Frédérik Durand) tweeted last night, a game of USB roulette would begin with each participating DJ loading up a USB flash drive with songs and putting it in a bucket. Each artist must then draw a random stick from the bunch and build an entire set from the tracks at their disposal.
The concept has gained traction (literally) overnight. Dirtyphonics, Ekali and JSTJR are among the bass music acts who have expressed interest in performing at the unorthodox event. Even artists like Laidback Luke and Felix Cartal have reached across the EDM aisle to let Durand know they want in.
Novelty aside, USB Roulette has the potential to backfire. The challenge it poses may succeed in separating real DJs from their press-play counterparts, but likely at the expense of the audience's experience.
If Durand does his due diligence to curate a lineup of capable selectors, however, then his brainchild may have legs yet. After all, nowadays technical difficulties have forced any experienced DJ to improvise a set entirely from somebody else's music at one time or another.
Durand has also proposed that any DJ who can't complete their set must donate their booking fee to Electric Family. He has yet to confirm a date or location for the first-ever USB Roulette match at the time of writing. 
FOLLOW SNAILS:
Facebook: https://www.facebook.com/OfficialSnails/
Twitter: https://twitter.com/snailmusic
Instagram: https://www.instagram.com/snailmusic
SoundCloud: https://soundcloud.com/officialsnails