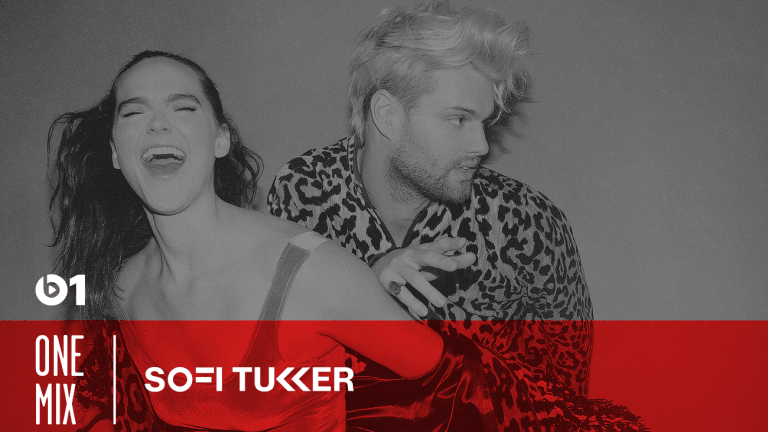 Grammy Nominated Duo Sofi Tukker Has A Special Set For Beats 1 One Mix
Their music is like a little slice of paradise.
New York based duo Sophie Tukker is on the rise.
The first song they ever wrote, "Drinkee," was nominated for a 2017 Grammy in best dance music recording. It's an impassioned catchy ballad inspired by Brazilian poet Chacal, an infectious tune that's made for grooving.
In the summer of 2016, they released their debut EP, Soft Animals, with Drinkee as the leading track. The rest of the EP is fantastic as well; an eclectic blend of songs, each one full of heart and soul, radiating a sensation that just makes you want to dance.
Also, though the iPhone X wasn't a massive success, it gave electronic music duo Sophie Tukker some well-deserved spotlight. Their tune "Best Friend," featuring NERVO, The Knocks and Alisa Ueno, was featured on the first promotional video for the iPhone X, garnering over 22 million views on Youtube.
Not to mention, Sofi Tukker supported electronic music favorites Odesza on their fall tour last year.
It has been a wild ride for the duo, who came from very different backgrounds until they met as students in Brown University during their final year of college. Sophie Hawley-Weld was involved in writing music and dancing since middle school. Tucker Halpern, though passionate about music, had dedicated his life to basketball up until his junior year of college, when he got sick for a few months, stopped playing basketball, and wanted to find a new way to enjoy his life. Of course, music was the answer, as he taught himself how to produce and DJ. Not long after, he met Sophie, and Sofi Tukker was born.
This weekend, Sofi Tukker will be taking their talents to One Mix, Beats 1's weekly radio show. Expect music from artists like deadmau5, Basement Jaxx, John Tejada & Gregor Salto, as the duo describes their mix as "poppin' sweaty and eclectic". They will also premiere Pabllo Vittar's remix of their track "Energia", as well as Oliver Heldens' remix of "Best Friend." Lots to be excited about.
Air Dates:
Friday 16th February 2018 - 23:00 LA / 02:00 NY / 07:00 UK
Saturday 17th February 2018 - 06:00 LA / 09:00 NY / 14:00 UK
Before the mix, we shot some quick questions at Sofi Tukker and they fired back. Read on for fun insights like their guilty pleasure record, dream B2B partner and favorite festival.
EDM.COM: YOUR FIRST SHOW EXPERIENCE?
Sophie: Avril Lavigne
Tucker: Backstreet Boys
THE FIRST TIME YOU BROUGHT YOUR MOM TO ONE OF YOUR SHOWS?
S: Amsterdam Pitch Festival
T: Probably the first show at Baby alright. We were first of three for Tokimonsta.
THE ARTIST WHO INSPIRED YOU TO BECOME A MUSICIAN?
S: Feist
T: Stromae
GO-TO PLACES FOR NEW MUSIC?
S: Any of Jpatt's DJ sets in New York
T: Shaming in random moments
YOUR GUILTY PLEASURE RECORD?
S: Harry Styles
T: Venga Boys (BUT NOT GUILTY AT ALL)
DESERT-ISLAND DANCE RECORD?
S: Random Access Memories
T: Our Beats One mix
DREAM B2B PARTNER?
S: LP Giobbi. It's a dream and it's real life.
T: Tchami
FAVORITE BPM?
S: 118
T: 130
A PIECE OF GEAR YOU ALWAYS NEED ON THE ROAD?
S: Guitarlele
T: USB stick
ALL-TIME FAVORITE FESTIVAL? 
S: Osheaga
T: Outsidelands
BIGGEST MISCONCEPTION ABOUT DANCE MUSIC?
S: That you have to be on drugs to enjoy it.
T: If you don't get it, you don't get it. It's a spiritual thing.
HOW OFTEN DO YOU GET OUT AND HAVE FUN, AND WHERE DO YOU GO?
S: Every night, all over the world!
T: Literally our shows and after parties are the best parties I've ever been to. All over the world.
CITY WITH THE MOST UNDERRATED DANCE SCENE?
S&T: Dallas - It'll Do Club!
INDUSTRY PREDICTION FOR THE NEXT YEAR?
S&T: The Matriarchy takes over
BEST PIECE OF ADVICE FOR NEW PRODUCERS?
S: If you don't know what you're doing, it can be an advantage!
T: Just make what you love and want to hear.
DEAD OR ALIVE, WHO WOULD BE YOUR DREAM COLLABORATOR
S: The original Sophie Tucker
T: Stromae
A UNIQUE TRAVEL EXPERIENCE YOU'VE HAD?
S: Going back to Brazil after being away for 4 years and finding it to be as magical I remembered
T: The Dominican Republic.
Interesting stuff. Given Tucker's desert-island dance record is the duo's Beats 1 One mix, our level of excitement for it just exploded. 
Catch Sofi Tukker on Beats 1 One Mix this weekend, and stay tuned for next week's star!  
 Follow Beats 1:
Website: applemusic.tumblr.com/beats1
Facebook: facebook.com/beats1
Instagram: @beats1official
Twitter: @Beats1
Follow Sofi Tukker:
Website: sofitukker.com
Facebook: facebook.com/sofitukker
Instagram: @sofitukker
Twitter: @sofitukker