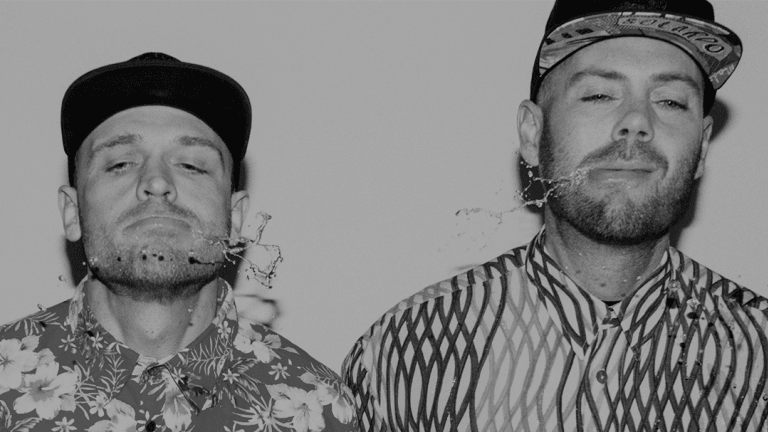 UK Tech House Duo Solardo Feature On This Week's Beats 1 One Mix
Solardo also spoke about their dream collaborator, biggest inspiration, favorite throwback track, and more.
Manchester duo Mark Richards & James Eliot, better known as Solardo, are shaping up to be big names in the tech house scene.
You may know them from their pivotal hit "Tribesmen," their EP's released on Toolroom Records and Green Velvet's Relief Records, or their own stellar record label, Sola Records. Not to mention, Solardo was crowned DJ Mag's Best Breakthrough Act of 2016 and Best Duo of 2017.
The UK pair has a knack for crafting warm, late-night, club-soaked house tracks. Their live sets are no less sensational, as they travel the world bringing their groovy sound to the masses. With support from the likes of Pete Tong, Annie Mac, Jamie Jones and Adam Beyer, the Manchester boys have climbed steadily climbed the ranks of the dance music world, and they're here to stay.
As announced by Anna Lunoe on Dance Chart, Solardo joins Beats 1's weekly radio One Mix this week to bring forth the hottest UK tech house around. You can bet there will be plenty of heaters from their Sola record label, tunes from artists like Pirate Copy, CamelPhat and Latmun.
Tune in here.
Air Date: Friday 29th June 2018 - 21:00 LA / 00:00 NY / 05:00 UK
Interested in the people behind Solardo? A member of the duo had a chat with the folks over at Beats 1 to dig into his musical experiences over the years. Read on for what it feels like to be backstage at EDC Vegas, speed skating to Prodigy at the roller disco, playing the air guitar to Guns n Roses, and more.
The artist who inspired you to become a musician?
I was inspired most by Liam from The Prodigy many many years ago when I started listening to his music, which still to me sounds timeless. Which is one of the hardest things to do as a producer; when you can make music which lasts forever. And to me, he has done that.
Go-to places for new music?
I spend a lot time on Beatport looking through tracks on there, usually not the new releases. I just try and dig deep, as deep as I possibly can in whatever short time have, I have to go through it. But it is a good place to find new music.
Guilty pleasure record?
I love Guns N Roses, Appetite for Destruction was the best album I think ever made, and I could I used to be able to air guitar it from track one right to the end. And I used to do it with my mate in his house. He'd be Slash and I'd be Axel, and we just do the whole concert to no one with tennis rackets his guitars.
Desert-island dance record?
Without a doubt New Order, Blue Monday. Just because at the time, it was such a pivotal track which sort of brought out the whole Manchester movement all together around the haciendas you know. Dance music was just breaking through, rave culture was the starting and then that track for me was just a massive part of that whole generation and building up. And, you know, you still play that track. Everyone knows it, it absolutely smashes every time. It's just incredible.
Dream B2B partner?
Possibly Paris Hilton because I hear she's an incredible deejay, and It would be extremely funny.
Favorite BPM?
Probably around 126 BPM, just because at that tempo, it just makes sure people dance little bit harder than during the slower stuff. Never really much faster than that because I think the records don't play how they're meant to play. But 126 BPM for me is like cool.
All-time favorite festival?
Without a shadow of a doubt, Park Light Festival in Manchester. Played there a couple of weeks ago. First time on a Saturday which was quite an early set because we played somewhere else later in the day. We played an outdoor stage and at 2:30 in the afternoon, there was 20,000 people in front of us. Now I don't think that would happen anywhere else, but because it is our hometown, our home support, everyone turned out so it was absolutely incredible.
Then on Sunday night we played a late set. We played the second to last in the Hanger, which is an indoor space of 15,000 people, and that was just incredible as well. I literally thought I was Drake walking onstage. Like phones in the air, screaming, shouting. It was just a surreal moment. I thought I'm some muck from Manchester, and I'm walking onstage feeling like I'm Drake. Unfortunately I'm not, but that was a highlight.
Flume, Kaytranada, The Chemical Brothers, More to Play Goldenvoice's New San Francisco Festival, Portola
The two-day festival will also feature sets from James Blake, Arca, Peggy Gou, M.I.A, Four Tet, PinkPantheress, DJ Shadow, and more.
The biggest misconception about dance music?
As a DJ, everyone says that's amazing you go in there traveling and all that, and it is absolutely amazing doing it. And it was great fun. But it is the most tiring job I've ever had in my life. Like, it's like…tired to a different dimension of tired. You know like, I've not been home for I don't know, this month, for like two or three times. It's difficult when you've got a family. I've got a newborn baby, I've got a wife. So not seeing them so much is difficult enough. Then the lack of sleep is why it's just it's just extremely draining, but obviously the highs are incredibly high. But the lows can also be quite low as well. So it's good to try and keep an equal balance in life when you do the sort of scene, so I try and eat fresh fruit, drink water. But yea, it's good…it's good and it's bad.
Industry prediction for the next year?
I've got to say Mason Maynard…we support him fully. He supports us on all our tours, he releases on our label and he definitely smashes it. So keep it eye out for him.
Best piece of advice for new producers?
Never ever give up, and always believe in what you're doing. I mean, I've been doing it since 1999. I started out in Dubstep, had quite decent career in that for 12 years, then it all dropped off. Left pretty much bumming around doing nothing, and then I started getting into House music and focused on being successful in this and I'm making good music. And it was just a point when most people would've giving up. I kept it going and going and going and I had not given up and eventually, I got where we are now so that's the key bit of advice. Do not give up if you want to go for it you'll get it.
Dead or alive, who would be your dream collaborator?
Michael Jackson, because he is one of the all time greats of the music generation.
What is one of the unique experiences you've had backstage?
In EDC Las Vegas, you get taken in from your hotel on a helicopter to the backstage area where you're met by a buggy, which takes you to your own like dressing room area. Then you leave the dressing room area and then they have got multiple restaurants. It's like artist village. Multiple restaurants where we can help ourselves to whatever food you want. Free bars, free sweets, free ice cream, free games, free everything. It's the world of free land. So that is where you want to be if you can get backstage, EDC Las Vegas.
A unique travel experience you've had?
Getting a private jet with David Kerr from Hollywood Burbank Airport to Las Vegas. We played L.A. on Friday and he was in the studio on that day. Then, he said do you want to come with me to Vegas because we both played in Vegas that same day. So we just jumped on his jet like you do. Chillin' around drinking tea.
What's your favourite throwback track?
Prodigy's "No Good (Start The Dance)", just because it was basically the first track I was going out to. You know, when I was younger, at the roller disco I used to go to. And that's when I first started raving around. I know it wasn't like full on raves, but it was in a roller disco. And I used to do speed skates to it. So I was quite good at skating. So I would skate backwards, speed skating around and all of the girls would go look at me and I would be thinking you know I'm just so cool. Because of Prodigy's "No Good (Start The Dance)" on in background while I was speed skating in the Rollerramah. So yeah. The soundtrack of my life is "No Good (Start The Dance)".
What's one track that fans always lose their mind to?
Tribesmen. Just because it's probably one of the most popular tracks we did and everyone knows it. I think a lot of people got into us through that track, so people could relate to it and just love it. They would just wait for us to play it at raves when it goes off.
What song would you want (god forbid) played at your funeral?
I'm not even too sure but I'll tell you what, it wouldn't be a boring slow one. It wouldn't be a tear-jerker. It would be like a bit of rave song. It would get everyone up ready. Because every funeral I've been to has always been quite upbeat. And you know it was a great party afterwards because it's more of a celebration of life other than let's cry about it so I would make sure it was something happy.
What's the perfect sunset track?
"Benediction" - Hot Natured. And just because when I hear that song all I can possibly think of is sunsets or sunrises so it would have to be that song.
What song do you listen to cheer yourself up?
A track that always cheers me up when I'm down, which isn't very often, but when I am it would be the Beatles "A Day In The Life" just because it is such a cool song. Have a listen to it you'll love it.