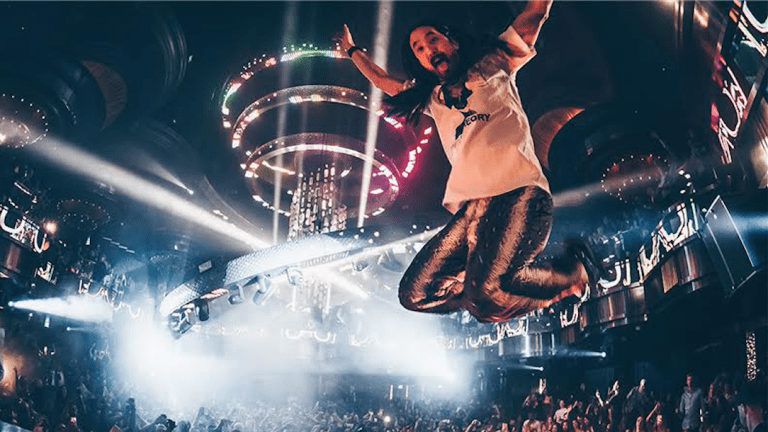 Steve Aoki Launches Exclusive AOKI Bootcamp Workout via Digital Fitness Platform NEOU
NEOU announces an exclusive partnership with Steve Aoki featuring fitness videos inspired by the Grammy-nominated musician.
Steve Aoki is known to have many a feather in his hat. He recently announced the release of his Memoir, Blue: The Color of Noise in addition to a new series of comic books and soon to come brick and mortar stores for his pizza chain, Pizzaoki. At that, all of this is secondary and in addition to producing top quality cross-genre music.
Aoki has always been known as one of the fittest DJs and producers out there so it comes as no surprise that he teamed up with a digital fitness platform, NEOU, to launch the AOKI Bootcamp. Marking his first foray into the fitness industry this year, AOKI Bootcamp is a high-intensity, on-the-go bodyweight workout that can be done anywhere with no equipment necessary.
Speaking about how strenuous touring can be and how the idea came about, Aoki said:
"I have spent a lot of my life on the road touring. Finding the time to workout hasn't always been easy. What's different about my bootcamp is that you don't need a lot of time, or space, to achieve a productive workout."
NEOU's in-house media production team has worked closely with the Grammy-nominated artist to create custom fitness content inspired by his on-the-go fitness regimen that has helped build his stamina and physical endurance while playing shows around the world.
Speaking about the collaboration, co-founder of NEOU, Nathan Forster said:
"We are really excited to partner with such a highly sought-after icon in the music industry and provide access to our users, across the globe, the ability to tune in for his high-intensity AOKI Bootcamp." 
Recognized by Forbes as one of the top five highest paid DJs in the world, Aoki went on to by lauded by Billboard as one of the most in-demand entertainers in the world, counting more than 250 tour dates per year. With performances at nearly every top festival around the world including Coachella, Ultra Music Festival, Tomorrowland, Electric Daisy Carnival and more, he has proven a force to be reckoned with. 
The NEOU app can be downloaded from the Apple App store and on Google Play. All downloads from March 15th through May 1st qualify for an introductory limited time offer of $7.99/month or $79.99/year with a two-week free trial. 
FOLLOW STEVE AOKI:
Facebook: facebook.com/steveaoki/
Twitter: twitter.com/steveaoki
Instagram: instagram.com/steveaoki/
SoundCloud: soundcloud.com/steveaoki