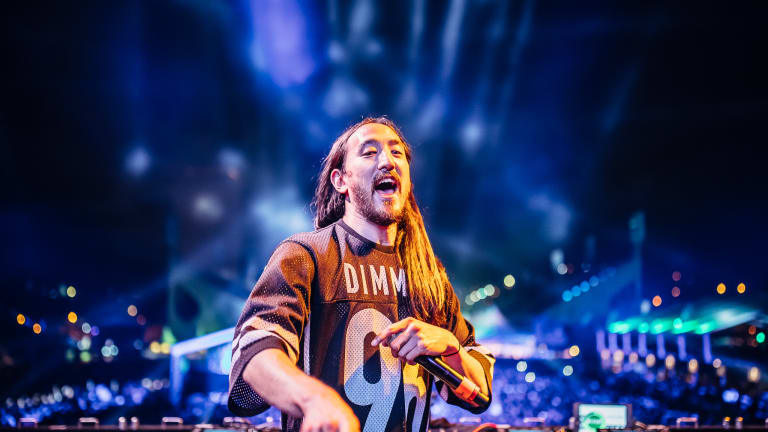 Steve Aoki Drops BTS Collab, Announces Tracklist for New Album
Steve Aoki accompanied his song release with the details of his upcoming album.
Just yesterday, Steve Aoki took to his social media to preview a new and unlikely collaboration. Renowned for his adventurous attitude toward genre-defying collaborations, this time around he chose to work with Korean boy band sensations BTS.
This isn't their first time working together. Last year Aoki remixed BTS' hit song "MIC Drop" with Grammy-nominated rapper Desiigner taking the hit to #1 on the Billboard US World Digital Chart in 2017-2018. This went on to make it the highest-charting song by a Korean group in US history, and the first to go certified gold.
"Waste It On Me" came out today via Ultra Music/Dim Mak and will be included on the two-time Grammy-nominated DJ/producer's upcoming album, Neon Future III. The pop track stands out as a dynamic anthem for young and restless love.
This new track follows Aoki's recent releases of "Jaleo" with Nicky Jam, "Hoovela" with Croatian DJ/producer TWIIG and Aoki's pop anthem, "Be Somebody" featuring Multi-Platinum vocalist Kiiara and Multi-Platinum DJ & producer Nicky Romero.
Neon Future is a series of connected concept albums by the American DJ/producer. The concept derives from his deep interest in futurism through technology and the symbiotic relationship between man and machine. The third installment, Neon Future III, is set for release on November 9th. It promises to be his most pop-driven project to date. 
The album will be stacked with collaborations with tastemakers across genres. It will include never-before-heard tracks featuring Blink-182, Mike Posner and Lady Antebellum among many more. 
Speaking about his recent collaboration with BTS, Aoki said:
"I'm so psyched to share this collaboration with one of the most exciting and inspiring group of guys I've met in the past few years.  It's an absolute honor to work with them once again on 'Waste It On Me.' I can't wait for my fans to hear what's in store for them next on this third installment of Neon Future."
On the topic of their first entirely English song, the BTS boys said:
"We're happy for this meaningful and heart-felt collaboration. The song is just so amazing, we really enjoyed working on it. It's our first song that is entirely in English. It was refreshing and fun to record the song. We hope this would be a good present for our fans."
Neon Future III by Steve Aoki is available for pre-order here today and the full tracklist is below.
Steve Aoki - Neon Future III (Intro)
Steve Aoki & Louis Tomlinson - Just Hold On
Steve Aoki - Waste It On Me ft. BTS
Steve Aoki & Nicky Romero - Be Somebody ft. Kiiara
Steve Aoki - Pretender ft. Lil Yachty & AJR
Steve Aoki - A Lover And A Memory ft. Mike Posner
Steve Aoki - Why Are We So Broken ft. blink-182
Steve Aoki - Golden Days ft. Jim Adkins of Jimmy Eat World
Steve Aoki - Our Love Glows ft. Lady Antebellum
Steve Aoki - Anything More ft. Era Istrefi
Steve Aoki x Lauren Jauregui - All Night
Steve Aoki - Do Not Disturb ft. Bella Thorne
Steve Aoki - Lie To Me ft. Ina Wroldsen
Steve Aoki, Daddy Yankee, Play-N-Skillz & Elvis Crespo - Azukita
Steve Aoki & TWIIG - Hoovela
Steve Aoki & Don Diablo x Lush & Simon - What We Started ft. BullySongs
Steve Aoki - Noble Gas ft. Bill Nye