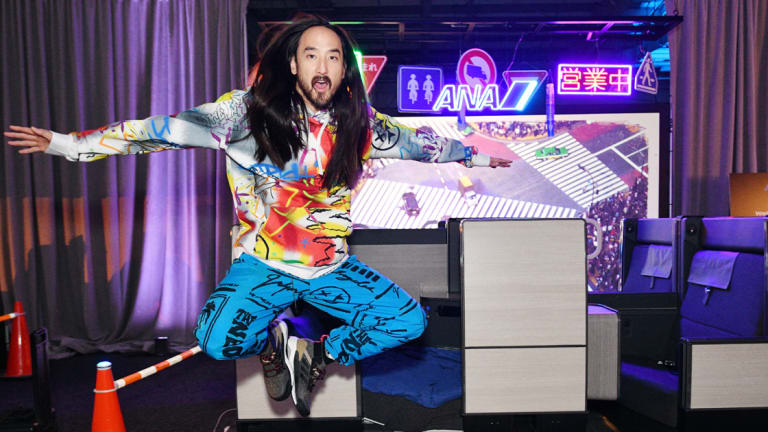 Steve Aoki Gives a Sneak Preview of Neon Future IV at All Nippon Airways Celebration
At ANA's seat launch event in NYC, Steve Aoki teased his new album for the first time.
Steve Aoki celebrated longtime partner All Nippon Airways' redesigned Boeing 777-300ER in New York City with an exclusive preview of his upcoming album, Neon Future IV. 
Since 2016 the two-time Grammy nominated DJ and producer has been working with ANA, Japan's largest and five-star airline. Many of their collaborative projects include inflight podcasts, Spotify playlists and a video series that gives passengers a first-hand look of Japan before they even step off the plane. In the spirit of keeping that same experience, both Aoki and the airline have worked together for years.
Held at Pier 36, the event showed attendees what a flight from New York to Tokyo would be like. ANA provided an immersive experience that included a VR tour of the cabin and 1:1 replicas of their newly designed First Class and Business Class seats for their Tokyo-New York route - something the world-traveling DJ has already given his stamp of approval.
Aoki said, "The first class seats are phenomenal, definitely the best first class seats in the market. For me, I fly all the time and do over 250 shows around the world, so I fly constantly. If there's any road tester out there that really knows how to fly and what seats are the best, it's me." 
Although ANA transformed the event space into a mini Japan with Japanese food, flora and architecture, what really brought its inflight experience to life was Aoki's performance at the end of the night. Like passengers who got to listen to the DJ's curated Spotify playlists, attendees got to hear his new music from the source himself. 
Before getting onstage to perform tracks from Neon Future IV, Aoki said, "It's a bit nerve wracking because I've never played it for anyone. Actually, some of these songs never heard the light of day outside my studio. So this is a big moment, and the moment's coming soon. The Neon Future IV album will be coming out soon, but people in this room tonight will be the first to ever hear what I've been working on for a long time."
Fittingly enough, the set started off much like how a pilot welcomes you onboard. The electronic track echoed the words, "Welcome to the Neon Future" while Aoki took his place at the helm. After that he navigated us through an energetic mix of this year's releases and about seven unreleased songs.
It's no surprise that some of his most popular collaborations from this year made it onto the album's tracklist. Among them were "Do It Again" with Alok, "Rave" with Showtek and MAKJ, "Crash Into Me" with Darren Criss, "Let It Be Me" with the Backstreet Boys, "I Wanna Rave" with Bassjackers and "Hava" with Timmy Trumpet.
But those aren't the only collaborations that will be featured on the album. Each of the other songs that Aoki played were collaborations too. They also varied in subgenre with dance pop, future bass, trap and moombahton.
Take a listen here:
Neon Future IV is still set to come out sometime in 2019 - and with the end of the year fast approaching, that means soon. Regardless, the sneak preview at ANA's event was more than enough to let us know that Aoki's new album will still be just as epic as his previous Neon Future albums.
Follow Steve Aoki: 
Website: steveaoki.com
Facebook: facebook.com/steveaoki
Twitter: twitter.com/steveaoki
Instagram: @steveaoki
Soundcloud: soundcloud.com/steveaoki