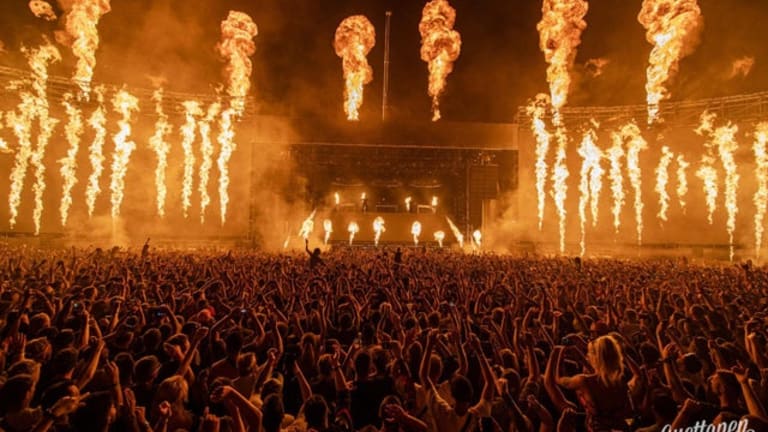 Pyrotechnics from Swedish House Mafia Show Cause Millions in Damages
Creamfields took a major hit after the iconic Swedish trio took the stage.
It was announced that Creamfields was set to be the biggest show to date for Swedish House Mafia, so big that it would take an entire day to install. However, not even the team at Creamfields could predict how costly this big of production would end up being. 
During the extended hour and a half set, the trio had massive pyrotechnics blaring to impressive heights. That amount of heat and flame ended up taking a devastating toll on the screens causing a whopping £4 million in damages when they permanently wrecked the stage's LED screens. Users on the SHM subreddit were sharing how even in front of the production tent the flames were still burning. Attendees even reported having trouble keeping their eyes open in the front row.  
No confirmation has been made whether or not SHM, Creamfields, or the technicians behind the production will be responsible for the fine.
Other news out of the now-infamous Creamfields set is that something big was going to be coming this week from the legendary trio. Flashed on the screen was the date 06.09.19. There are theories going around it could mean either a new tour or album coming our way. Check back in here Friday to find out. 
H/T: ONLY TECHNO
FOLLOW SWEDISH HOUSE MAFIA:
Facebook: facebook.com/swedishhousemafia
Twitter: twitter.com/swedishousemfia
Instagram: instagram.com/swedishhousemafia
SoundCloud: soundcloud.com/officialswedishhousemafia
FOLLOW CREAMFIELDS:
Facebook: facebook.com/officialcreamfields
Instagram: instagram.com/creamfieldsofficial
Twitter: twitter.com/Creamfields