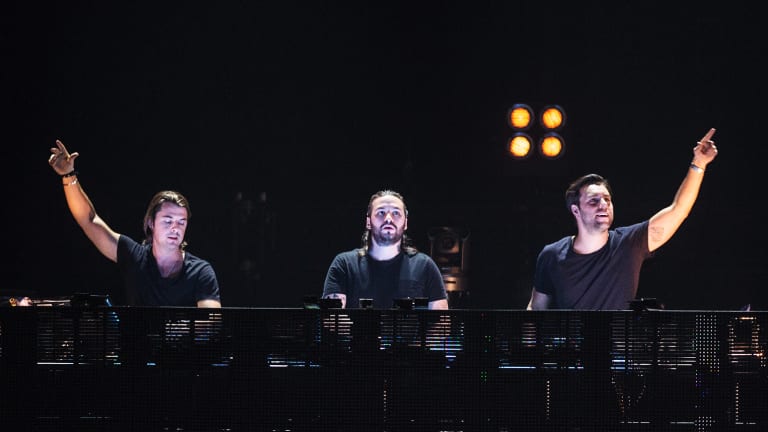 Swedish House Mafia to Release New Music for First Time Since 2012
The trio revealed their plans in a press conference on their upcoming Stockholm performance.
The EDM world has been abuzz about the upcoming Swedish House Mafia reunion, but the supergroup have revealed even bigger plans. 
Shortly before the countdown to their announcement came to a close, fans already speculated that they would reveal plans to perform in Stockholm next year. During the press release in which bandmates Steve Angello, Axwell and Sebastian Ingrosso confirmed the gig for May 4th, 2019 at Tele2 Arena in Stockholm, they also revealed that new music was on the way.
According to the trio, their upcoming releases will sound like "the music of today" without deviating too far from the signature Swedish House Mafia style. They also made comments suggesting that they planned to put their individual projects on the back burner to focus on their collective efforts.
The press conference was conducted entirely in Swedish, leaving much of the "One" producers' fan base in the dark for several minutes. Before long, translations of the more notable highlights began to circulate through social media.
Swedish House Mafia's final release arrived in the form of their 2012 single "Don't You Worry Child" featuring John Martin. The anthem came out shortly after they announced their farewell tour of the same year. 
Swedish House Mafia have yet to disclose titles, release dates or any other information for their upcoming music at the time of writing.
H/T: EDM Identity
FOLLOW SWEDISH HOUSE MAFIA:
Facebook: https://www.facebook.com/swedishhousemafia/
Twitter: https://twitter.com/swedishousemfia
Instagram: https://www.instagram.com/swedishhousemafia/
SoundCloud: https://soundcloud.com/officialswedishhousemafia