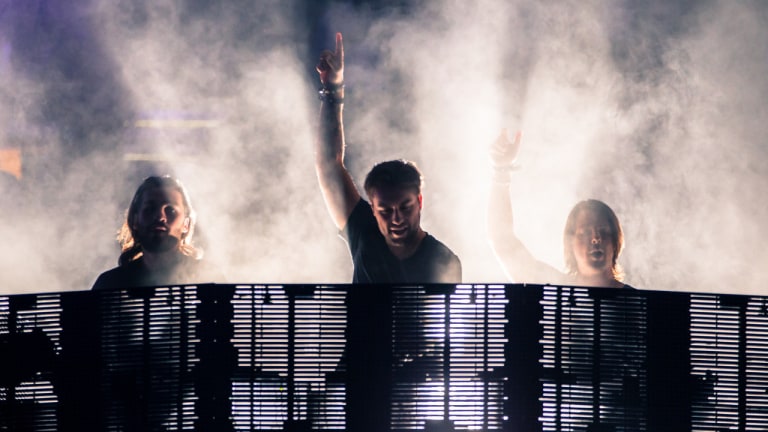 Swedish House Mafia Unveil New Stage Design at Diriyah Season
Swedish House Mafia showed off new stage production in Riyadh, Saudi Arabia.
Swedish House Mafia unveiled new stage production during their performance at Diriyah Season in Riyadh, Saudi Arabia. A fan in attendance captured footage of the superstar trio's performance and shared it to YouTube. 
Similar to some of their other stages from recent events, the production included several nods to their signature three dots logo. With three suspended circles in the sky overlooking the trio, the pyrotechnics-filled performance was anything but modest. Since their return, the supergroup have had several variations of their stage, with some differences between them. 
Initially, the stage design leaked on Reddit, giving fans a more focused view of the production elements. The image showed what appeared to be a test of the pyrotechnics and lights and was later posted to Instagram where fans shared their excitement for the new stage elements. 
Last month, the Swedish dance music heavyweights were spotted in the studio with the popular hip-hop producer Mike Dean. Shortly before that, they decided to black out all their social media accounts, sending fans into a frenzy of speculation. Unfortunately for fans, there have not been any big announcements since.  
H/T: Your EDM
FOLLOW SWEDISH HOUSE MAFIA:
Facebook: facebook.com/swedishhousemafia
Instagram: instagram.com/swedishhousemafia
Twitter: twitter.com/swedishousemafia
Soundcloud: soundcloud.com/officialswedishhousemafia