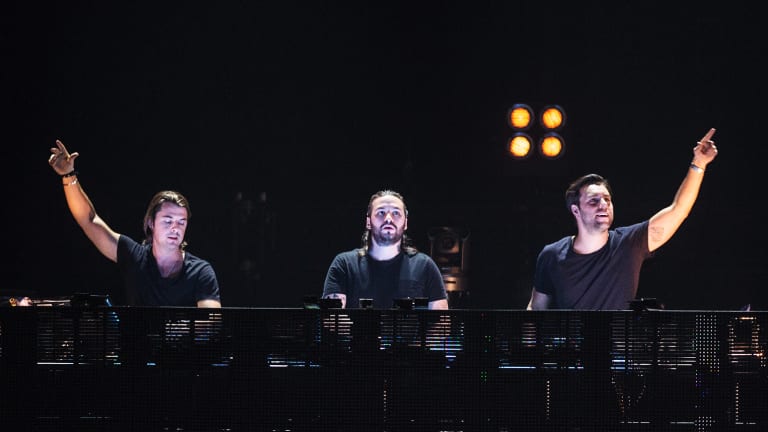 Evidence of Swedish House Mafia at Tomorrowland 2019 Continues to Stack Up
A look into the evidence behind this growing conspiracy theory.
Tomorrowland's 15-year anniversary is drawing near with each passing day, and despite the festival's recent full lineup release, there's still one rumor that seemingly won't go away: Is Swedish House Mafia playing? 
Of course, while the trio at this point is not scheduled to play the festival, fans claim there have been digital breadcrumbs released along the way indicating Swedish House Mafia will take the stage at Tomorrowland in August. 
First, there was the announcement of Tomorrowland's One World Radio. Tomorrowland's top 1000 tracks were counted down and perhaps unsurprisingly, Swedish House Mafia's "One" took the top honor. However, outside of the countdown results and the title of the program, Tomorrowland's marketing rollout included the below teaser, which briefly sees their logo flash in a 3x3 grid formation. The same format was used by Swedish House Mafia to cryptically unveil several of their reunion performances throughout the world earlier this year.
If you're not sold on this theory yet, there's more evidence to consider. On the current schedule, the closing slots on Tomorrowland's Sunday lineup are notably blank for both weekends. Could the closing "15Y Spectacle" be a performance by Swedish House Mafia?
Finally, we owe this last breadcrumb to the internet sleuth who discovered pressing the period key three times while on the Tomorrowland website yields a digital firework display. Of all combinations, given the similarity to Swedish House Mafia's three dot symbol, it seems a little more than a coincidence that typing three dots yields this hidden effect. Try it for yourself here.
You may think these individual pieces of evidence are circumstantial at best but as they say, grains of sand make a heap. For the final answer to this burning question we may just have to wait until Tomorrowland's closing bell to find out. 
Tomorrowland takes place July 19th to 21st and July 26th to 28th for weekends one and two respectively.
FOLLOW SWEDISH HOUSE MAFIA:
Facebook: facebook.com/swedishhousemafia
Twitter: twitter.com/swedishousemfia
Instagram: instagram.com/swedishhousemafia
SoundCloud: soundcloud.com/officialswedishhousemafia
FOLLOW TOMORROWLAND:
Facebook: facebook.com/tomorrowland
Twitter: twitter.com/tomorrowland
Instagram: instagram.com/tomorrowland