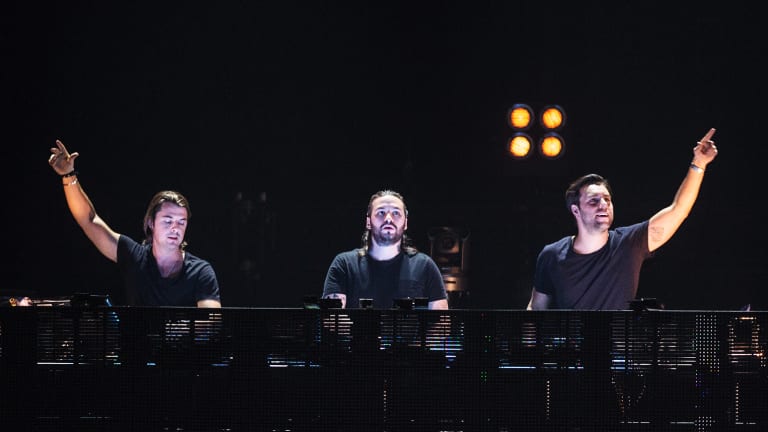 Swedish House Mafia Update Website with Mysterious Countdown Timer
EDM legends Swedish House Mafia want you to wonder what they've got in the works.
Cryptic online countdown timers appear to be all the rage this fall. Yesterday Rezz shared a timer counting down to the reveal of something called "A Nightmare On Rezz Street." Today, superstar DJ/producer trio Swedish House Mafia have revealed one of their own.
The timer visible to SwedishHouseMafia.com visitors counts down to a little over five days out using an unorthodox notation. Steve Angello, Axwell and Sebastian Ingrosso each teased the countdown on their respective Instagram Stories, but none have publicly hinted at what might be announced when it runs out.
Signs of a full Swedish House reunion have been numerous of late. The trio already performed at this year's edition of Ultra Music Festival in Miami, and mysterious posters hung up in Stockholm have given fans more hope for their second chapter. What remains to be seen is whether their reunion will take the form of more one-off performances, a full tour, and/or upcoming releases.
Visitors to the website who click on the countdown timer will be prompted to sign up for email updates (presumably regarding the announcement). In the meantime, Axwell Λ Ingrosso are slated to perform at Amsterdam Music Festival on October 20th.
Follow Swedish House Mafia:
Facebook: https://www.facebook.com/swedishhousemafia/
Twitter: https://twitter.com/swedishousemfia
Instagram: https://www.instagram.com/swedishhousemafia/
SoundCloud: https://soundcloud.com/officialswedishhousemafia